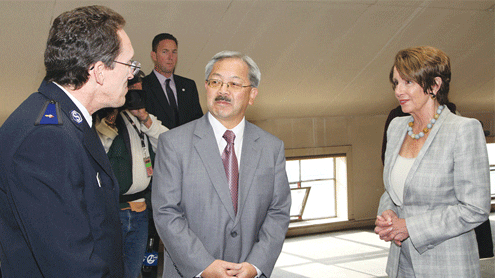 Harbor Light Center hosts one of 27 nationwide VA events
VA announces new homeless veterans initiative.
By Laine Hendricks
In October, Veterans Affairs (VA) launched a nationwide awareness initiative aimed at eliminating homelessness among veterans and selected The Salvation Army San Francisco Harbor Light Center as one of only 27 locations across the country to host an awareness event for the campaign Oct. 19.
The "Make the Call" campaign is a one-stop service for veterans who are homeless or at risk of losing their homes. By calling the 24/7 hotline (877-4AID-VET), veterans can connect with local programs and resources that can provide not only housing support, but educational resources, job training, employment opportunities, counseling and other services.
The San Francisco event attendees included Democratic Leader Nancy Pelosi, San Francisco Mayor Edwin M. Lee, California State Senator Mark Leno, and VA Principle Deputy Under Secretary for Health Dr. Robert Jesse, and other VA representatives.
In addition to raising awareness for the new "Make the Call" campaign, the event honored the over 100 community partners in the Bay Area who provide valuable program support to veterans. During her remarks, Pelosi noted that it's the efforts of community organizations, like The Salvation Army's Harbor Light Center, that are leading the charge to eliminate veteran homelessness.
"Your ideas—community-based, developed by vets themselves and those who care about them—are not only effective here but serve as a model for the rest of the country," Pelosi said.
At the event, the San Francisco VA Medical Center presented The Salvation Army—which has maintained a 20-year relationship with the center—with a $297,561 gift for the expansion of the Harbor Light Center. The expansion will add 10 additional beds to the drug and alcohol rehabilitation program, specifically dedicated to veterans in recovery. Envoy Jack Clitheroe, executive director of the Harbor provided Pelosi and Lee with a private tour of the area that will be renovated as part of the expansion.
"Caring for our local veterans is a high priority at the Harbor Light Center," Clitheroe said. "This expansion means 10 additional veterans will have the opportunity to pursue a life of sobriety."
The nationwide "Make the Call" campaign is part of the VA's pledge to end veteran homelessness by 2015. In addition to applauding the collaboration between the VA and community organizations, Pelosi pledged the support of her congressional colleagues.
"There's a saying on the battlefield: We leave no soldier behind," Pelosi said. "And we say in Congress, when they come home, we leave no veteran behind."