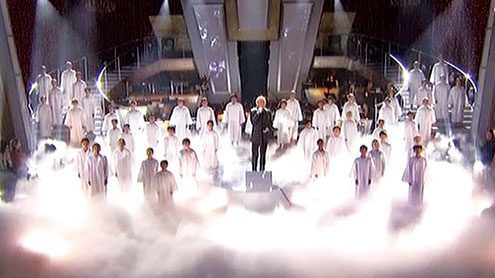 "Hallelujah" sang the boys in the choir
Tabernacle Children's Chorus boys perform on "Dancing with the Stars"
by Sharon Docter
In sparkling white choir robes amid blowing smoke, the boys of the Tabernacle Children's Chorus (Pasadena, Calif.) sang with Michael Bolton on ABC's hit television program Dancing with the Stars. The boys sang back-up to Leonard Cohen's classic folk song "Hallelujah."
This unique opportunity began on Oct. 3, when the boys and their leader, Barbara Allen, arrived at CBS studios in Hollywood, where the show is taped. After a costume fitting, the group headed to the stage for a dress rehearsal. During the rehearsal, Allen worked closely with the show's creative producers, staging a musical number whose music, lighting, choreography and smoke made the boys appear angelic.
Originally, British singer Susan Boyle was scheduled to sing the number, but she was ill and unable to perform. Michael Bolton, a recently eliminated contestant on the show, stepped in at the last minute.
On Tuesday Oct. 5, the boys returned to the stage to rehearse with Bolton. They received their mandatory three hours of schooling on the set. Just before the live show aired on Tuesday, the boys taped their segment with Bolton. All of the stars and dancers gathered in the green room to watch Bolton's performance, and many commented about how impressed they were with the boys. Several stars paused to wish the boys well, including former NFL quarterback Kurt Warner, who asked to take a picture with the children. Disney star Kyle Massey gave high-fives to all the boys as they headed to the stage, and they received cheers from the show's judges as they exited.
"I liked going backstage and seeing all the famous people. I liked performing and seeing how the TV things worked," said chorus member Jordan Schofield-Smith.
Last year, a few of the boys from the chorus sang with Andrea Bocelli at the Kodak Theatre in a performance broadcast on PBS. They also performed on Bocelli's Christmas album.
Founded by Barbara Allen, the Tabernacle Children's Chorus is based at the Pasadena Tabernacle Corps and boasts over 90 members. Allen views the Tabernacle Children's Chorus as part of her musical ministry, for it provides opportunities for "relational evangelism." Allen's innovative and exciting programs are consistently outstanding and have gained recognition within the community. Importantly, some of the families from the Tabernacle Children's Chorus have made commitments to God and The Salvation Army and have joined the Pasadena Tabernacle Corps. The Tabernacle Children's Chorus will be performing on Christmas Eve at the Dorothy Chandler Pavilion in Los Angeles; the show will be broadcast on PBS.