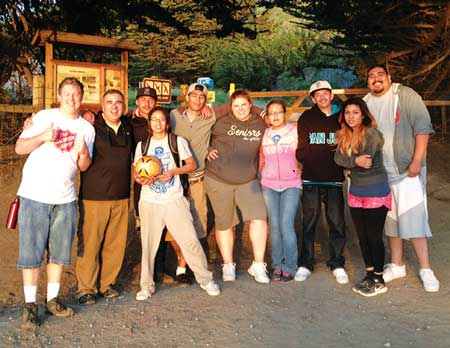 Hallelujah Hiking Club attracts community youth
Hikers grow spiritually and physically with each trail conquered.
By Vivian Gatica
The Hallelujah Hiking Club, led by Major Kris Potter in Salinas, Calif., is climbing its way to both physical and spiritual health. The new ministry at the Salinas Corps aims to get youth out of their daily routines and into experiencing nature, while building relationships with God.
"It is a combination of wanting to become physically active, and uniting the younger generations to go out and do something," Potter said.
The idea for the hiking club came two months ago when Potter began training to climb Mt. Whitney with his son. He asked a few of the teenagers and young adults at the corps to go hiking with him after church on Sundays, and since then 12 to 14 hikers regularly attend the outings. Potter describes it as a strong method of outreach to the youth of the community.
"It is much easier to invite non-Christian friends to a hike than it is to church, for certain," he said.
The group has gone on five hikes, including one to Garrapata State Park that presented a 4.5-mile trail leading to an epic view of the Pacific Ocean.
"It's proven to be a really good experience," Potter said. "Outdoor adventures get teens and young adults out of their normal doldrums, and into healthy lifestyle opportunities."
The name for their group came from the hikers saying "hallelujah" every time they reached the end of a challenging trail.
The hikers have responded positively, with many experiencing spiritual growth. One participant compared the experience to her spiritual life, telling Potter that while she could turn back, she knows that overcoming the mountain will make her stronger.
"The goals of the Hallelujah Hiking Club are to strengthen health and fitness, build relationships between the hikers, and create a bridge to bring people into relationships with Christ," Potter said. "It gets people out of their regular activities, and gives them a taste of something new."