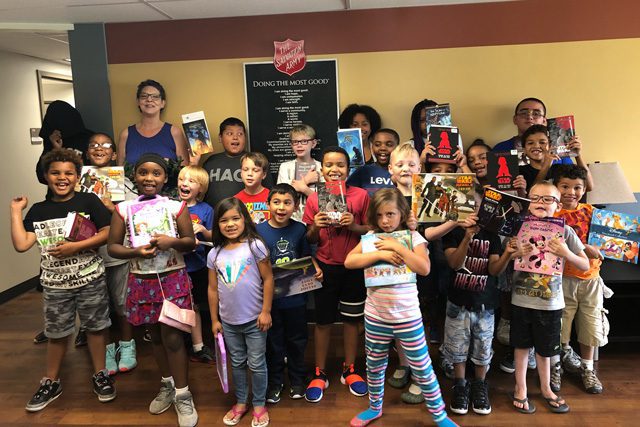 Growing program offers parents child care help across Colorado
Divisional after-school director is making a difference.
By Eric Dietrich –
Life as a single mom or a working parent isn't easy, but a growing Salvation Army program in Colorado aims to ease the burden when it comes to at least one parenting challenge: finding affordable after-school and summer child care.
"A lot of children are left at home by themselves because of working parents," said Marjaneh Gross-Tiger, After-School Director for the Intermountain Division.
The exact programs vary site to site, but participating corps typically offer after-school programs during the school year and all-day programs when school is out for the summer. The programs are targeted at elementary school-aged kids, as young as kindergartners and as old as 7th graders.
The challenge, Gross-Tiger said, is that child care is often prohibitively expensive for lower-income parents. For households with a single mom hoping to hold down a full-time job—or even two-parent families where paying the bills takes both incomes—that often puts parents in a bind.
"Typically a summer program is $200 to $300 a week," Gross-Tiger said. The Salvation Army offerings, in comparison, run more like $75 a week for summer programs and $50 a week for after-school care, with need-based scholarships available.
"We're not doing this for the money, so we won't turn anybody away," said James Taylor, who runs the child care program as the Program Director at the Aurora Corps, which is led by Captain Sam and Lt. Felicia LeMar.
Between Salvation Army scholarships and subsidies offered through a State of Colorado assistance program, Taylor said almost no parents with kids in the Aurora summer camp are paying full price.
The Aurora program, Taylor said, gives kids a chance to participate in things like music activities and STEM (Science, Technology, Engineering and Mathematics) projects—things like mixing up glue-and-baking-soda slime or engineering balloon-powered cars. It also includes a devotional component.
Kids are served snacks and, during the summer, full meals—provided, in the case of the Aurora site, through a regional food bank.
The corps also has volunteers who help with activities. "It's kind of the community reaching back in to help out," Taylor said.
In addition to homework time with the after-school programs, other sites give kids the chance to participate in enrichment activities like cooking lessons and field sports, Gross-Tiger said.
Notably, research indicates that after-school and summer programs play an important role in helping kids thrive, especially in high-poverty communities.
"Afterschool programs can enact meaningful change by encouraging children to explore different interest areas to find their passion, finding new and creative ways to keep kids excited about learning, offering academic help to students who are struggling with their school day lessons, and helping keep their students from hunger by providing nutritious foods," writes the advocacy group Afterschool Alliance.
Given that, Gross-Tiger thinks there's opportunity for The Salvation Army to serve more communities with after-school programs.
She's about a year into her role with the Intermountain Division, where she's focused on building up after-school offerings in Colorado. In that time, she said, she's been able to increase the number of corps offering child care programs in Colorado from three to nine sites, spanning cities from Fort Collins to Pueblo.
About 300 kids participated in summer 2018 programs, Gross-Tiger estimated.
She's working on adding additional sites in Grand Junction, Colorado, she said, and in the coming years hopes to expand the effort to include other Intermountain Division states—Montana, Wyoming and Utah.