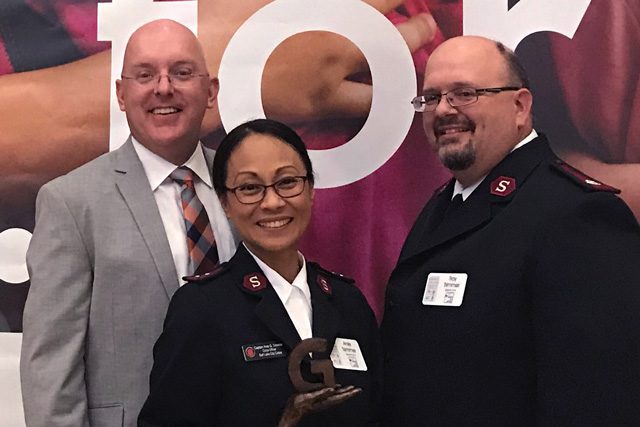 Granite Education Foundation honors Salt Lake City Corps
The Granite Education Foundation honored The Salvation Army Salt Lake City Corps Nov. 9, for providing assistance to families in need during the holiday season.
Granite Education Foundation, a 501(c)3 charitable organization, annually recognizes Utah organizations that have made a difference in the lives of their students and the community. It is dedicated to providing resources for students, teachers and schools to cover the gap that exists between what school budgets can cover, and what is needed for academic success.
"The Salvation Army understands that families are struggling, and through their outreach more than 400 families—out of 1,700 families the Salt Lake Corps serves—come from the Granite School District," said Brent Severe, Granite Education Foundation CEO. "During the holiday season, when you generously put money into a Salvation Army kettle, expect change to result from it."
Corps Officers Major Troy Trimmer and Captain Anie Trimmer accepted the award on behalf of the corps and its staff.
"It is incredibly humbling to receive this honor from Granite Education Foundation," said Troy Trimmer, who also serves as Salt Lake Basin Coordinator. "We at The Salvation Army strive each day to serve Christ by serving others. When you consider that there are roughly 46,000 children at or below the poverty level in the Granite School District, what we do is a start, but by God's grace we hope to accomplish more going forward."