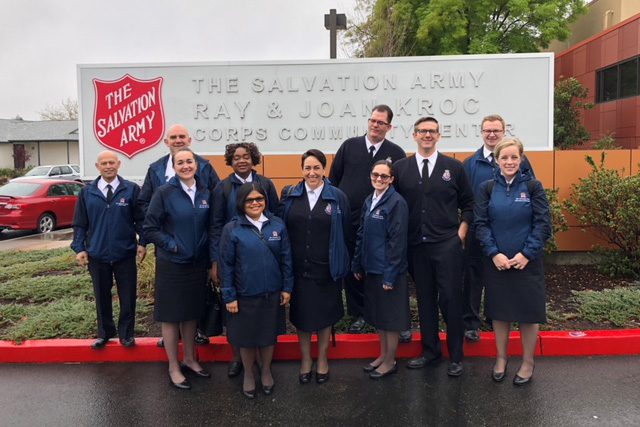 God draws Cadet out of comfort zone during Spring Campaigns
For its Spring Campaign assignment, the Faros Brigade from the College for Officer Training at Crestmont traveled to Suisun City, California, located in Solano County.
In Greek, faros means "lighthouse," and the brigade sought to live up to its name by shining boldly for Christ while serving alongside officers and staff at The Salvation Army Suisun City Ray and Joan Kroc Corps Community Center.
For Cadet Jayerica Tumale, one of the highlights of Spring Campaign was the Kroc Center's homeless ministry. Every Saturday evening, a team visits the neighboring city of Vallejo to serve people experiencing homelessness. The ministry aims to do more than simply feed the body; team members seek to create an inviting atmosphere that encourages fellowship so the outreach can feed the soul, too—both for the homeless community and the ministry team.
Tumale shared how God convicted her during this outreach: "The homeless ministry was such a moving experience for me. Though I am not new to such ministry as I have been involved with behind-the-scenes work like meal preparations and clean-up, I have always been uncomfortable and intimidated with the front-of-the-line, one-on-one engagement with the homeless population. I have always felt that it was enough for me to share God's love with others from the background.
"During our time in Vallejo, I was content with serving the hot chocolate and coffee with a smile. However, I felt God challenging me by reminding me of my brigade's name, Faros—lighthouse. As God's messenger, it was my duty to shine the light of Christ to others as emphasized in Matthew 5:14-16.
"God was calling me to step out of my comfort zone. To share his love to others by personally engaging in intentional conversations with the men, women and children present that late evening. To share a meal with the people around me and to be sure to inform them that they are loved. I am glad that I listened to God's challenge because throughout my time with my new friends, God assured me that he could use me to shine his light despite my initial hesitations. I was reminded that it is essential to always remember that as a messenger of God I must be a bold witness of God's love by radiating his light to others."
Along with Tumale, the Faros Brigade includes Cadets Aaron and Meagan Ruff, Ernie and Sara Evans, Colin and Felecia Pederson, Lorretta Scott, Chase Tomberlin-Green and Omoduni George Kawaley. Captain Neil Navarro is the Brigade Officer.