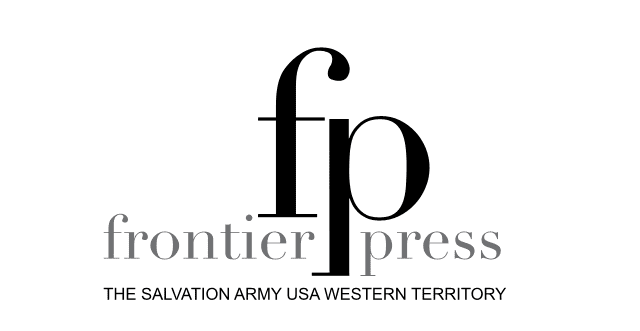 Frontier Press makes changes
Western Territory publisher to launch new website this month
Frontier Press, The Salvation Army New Frontier Publications' book publishing division, overseen by Associate Editors Majors Kevin and Linda Jackson, modified its approach to book selection and targeting audiences.
"We're trying to be a bit more selective—by selective I mean more relevant to the Army today," said Kevin Jackson. "We're [also] trying to move from an older generation of writers to a younger one. To reach a younger audience and keep our validity, we had to start looking at topics and approaches to literature that are a little more relevant."
Part of this change is opening publishing opportunities to not only officers, but other Salvationists and people connected to the Army as well.
"There are great writers out there; let's find them and publish them," Jackson said.
Upcoming books for Frontier Press include Maud, Emma, Evangeline: America's Love Affair With the Three Booth Women by R.G Moyles and Cost: Personal Sacrifice and the Choice to Follow, a collaboration between the Jacksons and Grant Whitehead, social media chaplain for the Western Territory, on the cost of discipleship in the 21st century and written in response to Dietrich Bonhoeffer's The Cost of Discipleship (Touchstone, 1995).
Other projects in the works include a follow-up book to OrsbornAgain by Major Rob Birks on the writings of General John Gowans (Ret.), a new book on Revelation from a non-technical Salvation Army perspective, a graphic novel, and a book of contemporary poetry and photography by a young Salvation Army officer.
"We've got a lot of planes on the runway that are going to be coming out within a month or two of each other," Jackson said.
The Jacksons said anthologies are also in progress. One of these projects, titled Telling Our Stories, will be published three times a year, detailing Salvation Army history in the American West. The other will be a compilation, published twice a year, of shorter works—including poetry—from a variety of writers.
"I think our culture has become a little more introspective than it's been in previous years, and when you get an introspective culture, they tend to want to produce something…for a lot of people, that is writing," Jackson said. "The world has changed and The Salvation Army has changed, so our writing should change with those things."
Frontier Press will launch its new website (frontierpress.org) this month.
"That's what people just go for; they want to go to your website first and see what you're all about," said Linda Jackson. "Our new website will not only highlight books we've published, but also the authors and the story behind them."
It will feature interviews with Frontier Press-published authors, Salvationist online book clubs, contact pages for people to submit ideas, and direct links to Amazon for readers to purchase books.
The Jacksons are making it their goal to continue to expand the Frontier Press audience and improve the quality of writing they publish.
"We shouldn't be publishing books for the sake of publishing them," Kevin Jackson said. "We should be publishing books that are helpful and worthwhile."