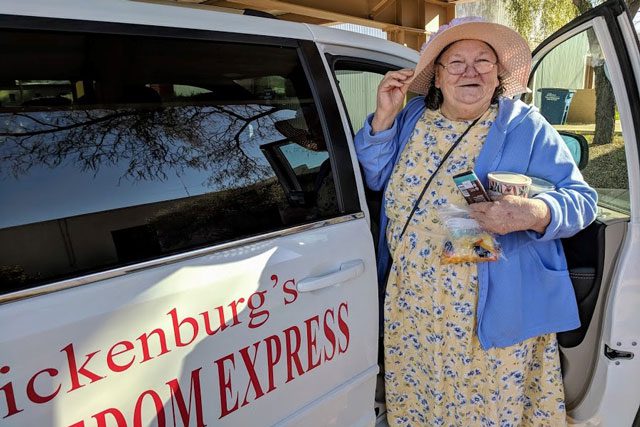 Freedom Express partnership helps seniors feel 'free,' even amid the crisis






By Kristin Marguerite Doidge – 
For seniors in Wickenburg, Arizona, access to free transportation provides more than just a chance to get moving. It's also a way to stay connected.
That's why The Salvation Army helped form a community collaboration with the Wickenburg Freedom Express (WFE) in 2015, which has served over 500 registered clients (seniors over the age of 60) with more than 40,000 rides. In the past year alone, WFE provided more than 10,000 rides for seniors to medical appointments, grocery shopping, activities, church, work, volunteering, the senior center and social events.
"WFE means freedom," said client Barbara Lopez. "I can't pay $20 for a taxi to go to physical therapy every time. The volunteer drivers are great. They are so caring."
For fellow client Rose Gallo, WFE provides a way of staying connected with the local senior center five days a week. "I get to visit all my friends and have a good lunch and play bingo," she said. "And if I need to get a prescription, they take me there, too. Then Friday afternoon I go home and don't come out until they pick me up Monday morning."
But the coronavirus pandemic has impacted both volunteers and clients alike, said Carrie Compton, transportation director of the program, noting that ridership is down about 75 percent.
About 40 percent of the population in the area are seniors over the age of 65 and about 12.5 percent are veterans. In addition, about 29 percent of those seniors are living alone, according to data from the U.S. Census Bureau. That makes the socialization with volunteers and staff at WFE even more important. 
"Many of them still call every day because they miss their friends and they miss the interaction," Compton added. "Loneliness is as dangerous to our seniors as smoking 15 cigarettes per day and we want isolation to end." 
She and program director Karla Mortimer still have about seven volunteer drivers (of their usual 17) conducting trips for "essential travel"—trips to physicians, labs, physical therapy, pharmacies, grocery stores and banks. But some of the drivers themselves are vulnerable to the risks of Covid-19 due to compromised immune systems or pre-existing conditions, and extra precautions have been taken to allow a number of them to stay home and to sanitize the vans every morning and every night for those still serving.
As for opportunities to connect virtually, many of the seniors in the rural community don't have access to smartphones or telehealth appointments, Compton said. Still, every effort is being made to fulfill the program's mission despite the circumstances.
"We are reaching out to clients with phone calls and newsletters delivered with meals," she said. "This is such an opportunity to be the hands and feet of Jesus. Some days it is heartbreaking to see how our society treats people in this first-world country. Most of the time it is just loving, serving and caring for people who are facing transportation and health issues."
Linda Finley, who serves as a volunteer driver, agreed. "I enjoy visiting with our passengers and meeting new people," she said. "Then some days when I finish driving and head for home, I just keep saying to myself, 'I'm so blessed, I'm so blessed.'" 
Those blessings often come in the form of access to other Salvation Army resources, too. "On a regular basis, people flag down a van to ask if there is a Salvation Army thrift store in town, or to tell us how The Salvation Army helped them," Compton said. 
And during Wickenburg's annual Gold Rush Days parade in February, "the crowds go wild when they see the vans," she added. "They all realize that you make God visible when you love your neighbor." From the Red Kettle Campaign at Christmas, churches, service clubs and businesses, many community members learn more about The Salvation Army from literature at the kettles, which helps provide funds to support the program.
Soon, other rural areas could see the same kind of partnership take off for local seniors. The Maricopa Association of Governments recognized the value of the program in 2018 when it named WFE as one of two pilot programs to be used in their Rural Transportation Incubator (RTI). The goal of the RTI is to start or expand four new transportation programs in two years to benefit isolated seniors at or below 150 percent of the federal poverty rate. Additionally, a toolkit is being created for use on the national level to replicate rural transportation programs throughout the U.S.
HOW TO HELP:
If you'd like to make a monetary donation, please

click here to make a gift.

Text 'GIVE' to 52000 to make a $10 donation to The Salvation Army. This will automatically add a one-time donation to your next mobile phone bill.

For information about volunteering, please visit

volunteer.usawest.org

.

To learn more about how to support The Salvation Army's relief efforts,

please click here

.