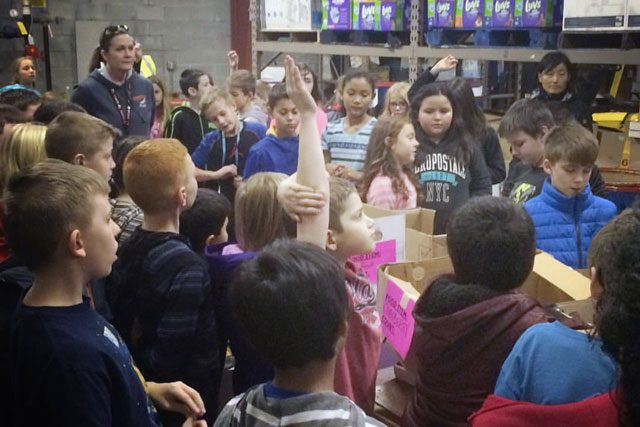 Fourth graders stock the pantry
Students collected, delivered and sorted food at the Salem Kroc Center food pantry.
Fourth grade students from Sumpter Elementary School in Salem, Ore., delivered 11 barrels of food to The Salvation Army Salem Ray and Joan Kroc Corps Community Center. More than 70 students participated, along with 15 teachers and several parent volunteers. This was the second year the children collected food in their classrooms for the Kroc Center's food pantry.
The students arrived at the center for two hours of sorting the donations into various food groups: grains, protein, vegetables and fruits. They also separated the items used in the center's Christmas food boxes, including sweet potatoes, cranberry sauce, stuffing and biscuit mix.
"I feel good about coming here because I know people will get to eat healthy food," one child said as she sorted the donations.
The large group worked efficiently, finishing the job in half the expected time. A group discussion then took place, focusing on hunger and solutions to the problem.
"Why does food cost money?" another student asked. "If we all just got free food we wouldn't have to worry about people being hungry."
The group also considered what foods get donated most often—canned vegetables, tuna, pasta, top ramen—and those not donated as often—dairy items, eggs, meat, fresh fruits and vegetables, and peanut butter.
"That gave us the opportunity to talk about balanced diets and how we give out more vegetables, fruits and healthy grains, and limit processed foods and sugary items," said Lacey Carlson, resource development coordinator at the Kroc Center.
This one project impacted the children on several levels; while helping others, they also studied nutrition and considered the more abstract problem of hunger.