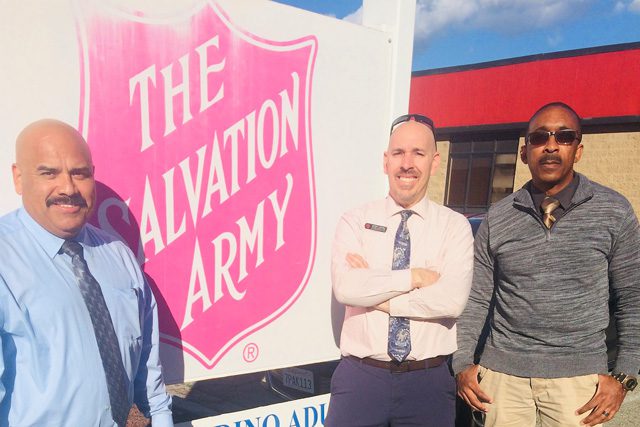 Former inmates get a fresh 'START' in San Bernardino
By Kristin Marguerite Doidge –
Getting a fresh start after incarceration can be a challenge.
But an innovative program in San Bernardino, California, has partnered with The Salvation Army to make that first step a little easier—especially for those who have struggled with addiction and have cycled in and out of jail for most of their lives.
It all starts with a car ride to the local Adult Rehabilitation Center (ARC), which is coordinated through the San Bernardino County Sheriff's S.T.A.R.T. (Sheriff's Transitional Assistance Reentry Team) program, led by Sheriff's Custody Specialist Heather Beidler. The program is based on the successful operations of the San Bernardino County Sheriff's Department-Homeless Outreach Proactive Enforcement (HOPE) team.
"START was created to end the revolving door of the jail system," Beidler said. "Most of these individuals have been in the criminal life since they were very young. It's all they know."
During the past two years, she and her team have made contact with nearly 2,800 inmates as they were released from custody, placed 152 in reentry programs, such as those with The Salvation Army, referred 258 to the County Department of Behavioral Health's Corrections to a Safer Community (CTASC) program, and 440 to the County's Probation Department.
Though it can be a challenging community—with 1,100 individuals self-identifying as homeless, 590 as having a substance use disorder and 632 as having mental health illness—Beidler said she's learned time and patience will often allow people to seek help when they're ready.
"Oftentimes, it's the process of allowing individuals to make the decision on their own to change," she said.
For men seeking help with substance abuse, the ARC is available with 120 beds, said Jeffrey Campbell, intake coordinator at the San Bernardino ARC. He works closely with Beidler nearly every day of the week to help identify those who would be successful in transitioning to the ARC upon release.
At any given time, about 10 to 12 of the beds are occupied with client referrals from the START program. To be eligible, the men must be between the ages of 21 to 62, able to read and write English and take a work assignment in the warehouse, and they cannot be registered sex offenders or arsonists. Once their application is accepted, they can stay for up to six months to complete the program before moving to transitional housing or back home.
"Our goal is to prepare them for the workforce and to be productive members of society," Campbell said.
In addition to handling transportation, Beidler has played a critical role in the pre-screening process, he added. If an inmate states they are interested in long-term, in-patient drug rehabilitation and meet the criteria, they're offered the pre-screening application before they get to Campbell.
Back at the Sheriff's Department, it's all about making that transition from custody to rehabilitation easier.
"Looking at the numbers of individuals placed through organizations like The Salvation Army and how many have found success with these programs, we have been able to recognize the need to focus on drug addiction and the crimes related to it," Beidler said. "We knew if we offered them a map and expected them to enroll on their own, they would never make it and would be right back in custody."
Instead, some of them are now finding their way toward a new life. While Campbell helps field more than 500 intakes a year at the ARC from a number of agencies and individuals—including from alumni who have successfully completed the program, churches and other facilities—"those from Heather seem to stay a long time," he said.
One man completed the ARC program a few weeks ago after being referred through START.
"He was especially drawn to the faith-based element of the program," Campbell said. "He's been very successful—and was able to return to work."
As for Beidler, she knows the program's success depends on dedication from both sides.
"Jeffrey's patience and dedication to allow individuals to go through the process of change is an inspiration," she said. "Some of our greatest success stories come from placement into The Salvation Army."
She's recently been able to get START implemented into all of the four major jails in the area, with hopes of expanding even further to make a greater impact on more inmates.
"We try not to give up on anyone," she said. "One individual has been on START's radar for over 18 months. He had a total of 18 jail bookings in our county and finally accepted the help. By him taking the assistance, we have allowed him to get off the streets and hopefully change his way of life."