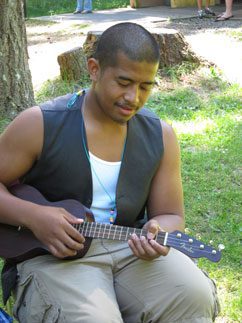 Former gang members go from hopeless to hopeful at camp
Finishing high school, going to college and playing professional football—these are the new dreams of Frankie and Talolo "Lolo" Falaniko, former homeless gang members who dabbled in drugs and cared little about their futures.
This year the brothers attended music camp at The Salvation Army's Camp Arnold in Eatonville, Wash.
In 2009, the Falaniko brothers lived with their parents and siblings in Renton, Wash. Unable to make ends meet, the family lost its home. Moving to Tacoma, they turned to The Salvation Army for help and eventually moved into the Jarvie Emergency Family Lodge.
"I was embarrassed to be in a shelter," 16-year-old Frankie
said.
Frankie and his 15-year-old brother Lolo used to cut classes, run the streets and get into trouble. However, after seeing some of their friends get thrown into jail and others killed, they realized they needed to make some changes. Our lives changed because I let God into my life," Frankie said. "The Salvation Army gave us a place to stay, a church and even helped us find a home of our own."
Prior to being homeless, the boys' relationship with their parents was strained. Now in a home of their own, the family is closer than ever.
"Our dad wants us to choose our futures ourselves and is letting us do stuff now, like coming to The Salvation Army camps," Lolo said.
Lolo plays the guitar, Frankie plays the ukulele and music has always been their escape from reality. Their week at Camp Arnold gave them a chance to not only learn music but to teach it.
Camp inspired Frankie and he hopes to make a difference in kids' lives by giving ukulele lessons. "Music makes me happy. It takes me away from all the bad stuff."
Although they've come far since their days of running and living on the streets, the brothers know they still have a long way to go. But Lolo is convinced they'll make it. "My brother doesn't give up—that's what I love about him."