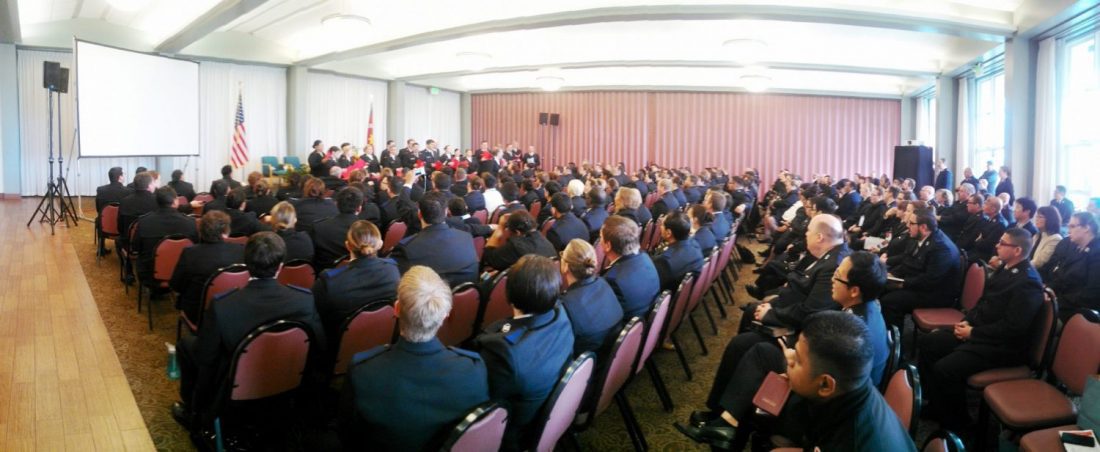 Surrender and submission—FOF 2014
Future Officers Fellowship retreat takes place at the College for Officer Training at Crestmont.
By Lisa Barnes, Captain
The Salvation Army Western Territory's annual Future Officers Fellowship (FOF) retreat, Feb. 7-9, brought 187 Salvationists from across the territory to the College for Officer Training (CFOT) at Crestmont (Rancho Palos Verdes, Calif.) to explore their individual calling for Salvation Army officership.
Major Bob and Captain Joanne Louangamath, territorial candidates' secretaries, led the event, where delegates sought the leading of the Holy Spirit to help them make a life-changing decision. The pre-FOF retreat began Feb. 5, when 22 delegates arrived for testing, interviews and orientation.
"Going into this weekend I was unsure as to why God would want to use me," said delegate Kb Hall. "The reality is that he already is, and he inspired me to want to do more. I am extremely excited to move forward."
Territorial Commander Commissioner James Knaggs gave the message at the opening meeting. Cadet Kelsey Pearce, Heralds of Grace Session president, shared his testimony.
On Saturday morning, Captain Shevaun Malone broke down the word "surrender": sur-rend-er. With the addition of an "e," "sur" becomes "sure." The delegates were looking to be sure of God's call in their lives. "Rend" means to rip apart or separate. Malone asked the group, "What needs to be removed from your lives?" And finally "der," as in "duh, get on with it anyway!"
On Sunday morning, Territorial Personnel Secretary Lt. Colonel Doug O'Brien's message was filled with stories and Scripture about surrender and submission.
"I would like to encourage those who are stepping out in boldness and faith as they answer God's call in their lives," said Captain Anthony Barnes, Southwest divisional youth and candidates' secretary. "Surrender is not easy, but few things are as fulfilling and rewarding as being in the center of God's will."
Delegates could learn more about officership at Saturday's workshops, which included The Salvation Army Worldwide, How to Study the Bible, The Cadet/Officer Life Experience (panel discussion and question and answer time), Using Available Resources and Foundations of Faith.
"Surrendering to his will in my life…that's giving it up to him every second of the day," prospective candidate Saul Smoak said. "I was nervous, but God said, 'I got you!'…God's got this!"
Saturday night's festivities featured a sports tailgate dinner and show, with entertainment by Comedy Sportz LA.
The current accepted candidates—just a few people—received recognition during Friday's keynote address. On Sunday morning when Lt. Colonel O'Brien asked the congregation who would like to join the ranks for 2014 entry to CFOT, so many individuals came forward that the space could not hold them all.
Captain Joanne Louangamath had time to reflect once the retreat was over. "I came away feeling abundantly blessed to serve an awesome God who gives us victory in our surrender to him," she said.
[gss ids="6592,6599,6598,6597,6596,6594,6595,6589,6588,6587,6586″ options="timeout=4000″]