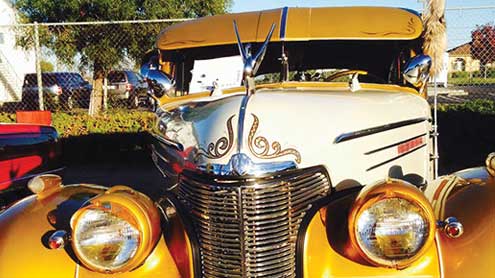 First ever kettle kick-off in Antioch
The Salvation Army in Antioch, Calif., held its first ever kettle kick-off Nov. 16 with a car show and contest, along with a concert. Corps Officers Lts. Purnell and Connie Hall expected 15 cars, but were pleased to welcome 35 participants.
"This was our first annual kick-off and we wanted to plan an event that would draw in the diversity of our community while promoting the ministry and message of The Salvation Army," Connie Hall said.
SO-LOW RIDERS, a local car club, partnered with The Salvation Army to sponsor the event. Entries in the car show were judged on style, presentation and power, with winners in the categories of People's Choice, Class, Best in Show and Pastor's Choice.
The concert featured area Christian artists who performed in a variety of styles including reggae and rap. A crowd favorite was The Salvation Army's own "Blood and Fire" from the Suisun City Kroc Center.
"This event is one that we hope will continue for years to come, growing bigger and better with each passing year and affording us the opportunity to build community support and partnerships," Hall said.
SO-LOW RIDERS plans to partner with the corps again for next year's kick-off.