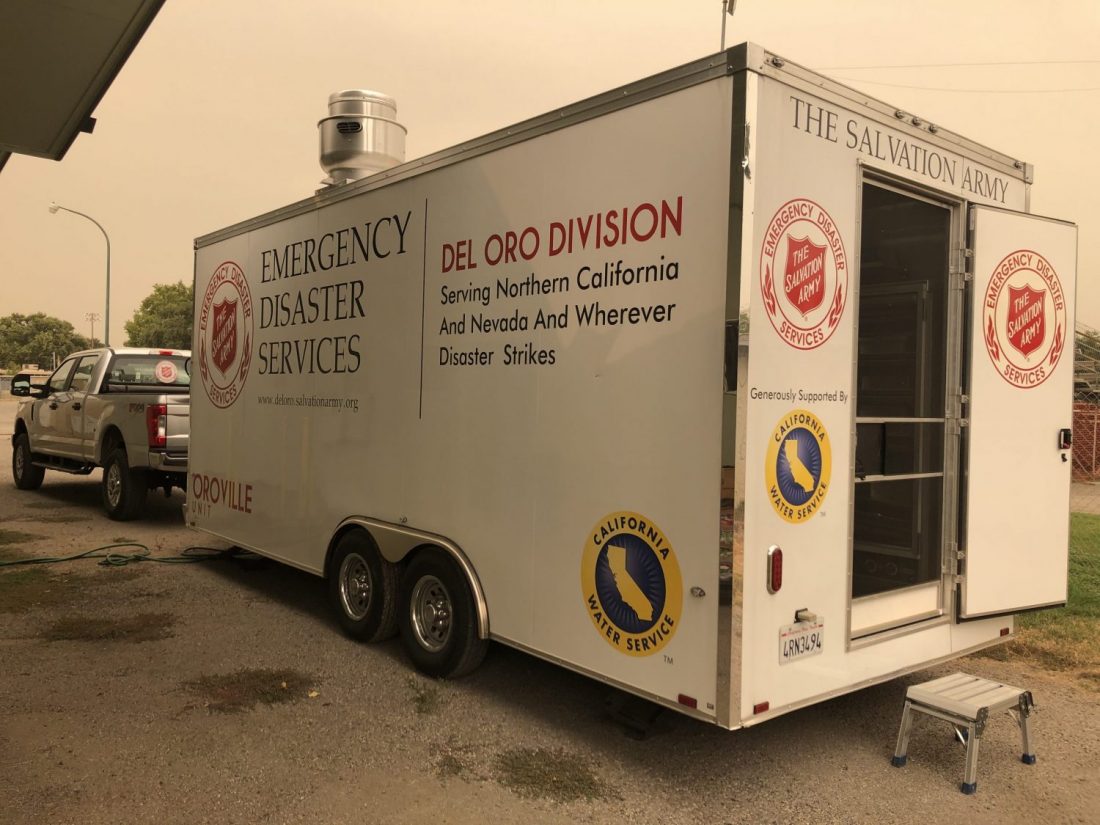 Fires across the West: How The Salvation Army is responding
As fires burn across the West, many of The Salvation Army's divisions are responding, providing meals, hydration and emergency supplies for first responders and fire evacuees sheltered in motels/hotels and congregate shelter facilities and helping those impacted take the next steps toward recovery.
Since Aug. 17, five Western divisions have provided more than 250,000 meals. The Salvation Army is also providing recovery services, including disaster social services, gift cards, financial assistance, counseling and information referral as well as emotional and spiritual care. With weeks remaining in the prime wildfire season, the divisions may continue to provide life-sustaining resources through the end of 2020, with long-term efforts stretching into 2021.  
As the fires are contained, the Army will transition from response activities to short-term recovery efforts, conducting client in-take in Local Assistance Centers and providing survivor assistance. Long-term recovery may include financial assistance for repair and rebuild efforts.   
Del Oro & Golden State Divisions (Northern California)
The Del Oro and Golden State divisions remain in response mode with the Napa, Redding, and Yuba Sutter Corps providing up to 2,850 meals daily for evacuees in hotel/motel shelters in Napa, Sonoma and Shasta counties. To date, the divisions have provided 94,000 meals through direct meal services and shelf-ready food boxes. Short-term recovery services are being offered in-person at county-run Local Assistance Centers (LAC) as well as virtually on county websites.  n addition to emotional and spiritual care, financial services are being provided to assist survivors with immediate needs and first month's rent for transitional housing.  
To date, $80,000 in gift cards have been provided to 440 families.  Long-term recovery and a disaster case management program is being evaluated in order to provide uninsured and under-insured survivors with rent/mortgage assistance, security/utility deposits, and the replacement of household furnishings, including beds and mattresses.  
California South Division 
The California South Division responded to the Los Angeles Bobcat Fire, during which it provided 5,000 meals to survivors housed in hotel/motel shelters in Duarte, Lancaster and Palmdale, California, in collaboration with the American Red Cross. Drawing upon the division's experience with multiple fires in recent years, it will collaborate with regional non-profit networks active-in-disaster to coordinate recovery efforts. Currently, emergency disaster personnel are collaborating with Airbnb to secure transitional lodging for fire survivors.   
Cascade Division 
The Cascade Division remains in response mode, providing emergency services for multiple fires affecting six counties – Clackamas, Douglas, Deschutes, Lincoln, Marion, and Multnomah—down from the 10 it was at one time responding to, as areas begin to clear.  At the request of the State of Oregon, The Salvation Army is feeding evacuees three times a day at the Jackson County Expo near Medford, one of the state's main evacuation centers.
The division has provided 155,000 meals through direct meal services and shelf-ready food boxes.  The Salvation Army HOPE House in Medford continues to shelter wildfire evacuees.  Where the fires are contained and evacuation orders lifted, the division is providing short-term recovery services, including financial assistance, advocacy for governmental funding, information and referral services and emotional and spiritual care.  Disaster social services personnel are assessing the long-term survivor needs and developing a long-term recovery plan that includes disaster case management for survivors who may be uninsured or under-insured.            
Intermountain Division 
The Bozeman (Montana) Corps responded to the Bridger Foothills Fire, providing emergency supplies, food vouchers, laundry vouchers, and gift cards at the fire evacuation center. The Billings (Montana) Corps responded to the Huff Fire, providing emergency supplies, gas cards and gift cards at the disaster resource center. 
Northwest Division 
The Northwest Division continues to address emergency needs in three Washington counties: Whitman, Okanogan and Pierce. Local Corps and Service Extension Units are offering on-site disaster social services for survivors to receive emotional/spiritual care, as well as financial assistance for personal needs and transitional housing. In the coming weeks, divisional personnel will be assisting survivors as they relocate from shelters into transitional housing and start their long-term recovery process. The division continues to assess community recovery needs in cooperation with its regional non-profit networks active-in-disaster.