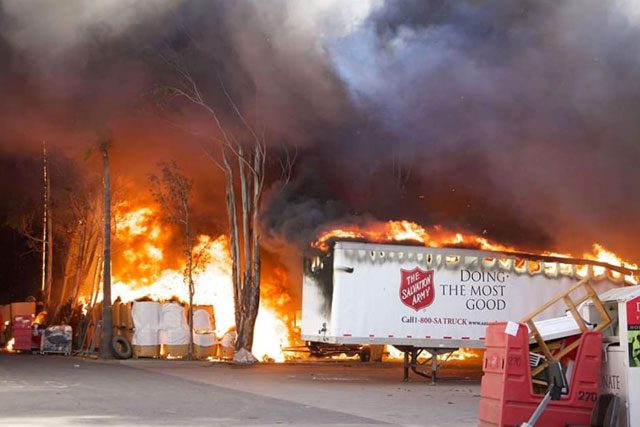 Fire at Salvation Army Perris Adult Rehabilitation Center 
Perris (California) facility engulfed in flames
A fire broke out at The Salvation Army Riverside Adult Rehabilitation Center (ARC) located in Perris, California, the afternoon of July 28, beginning in the warehouse section of the facility and growing to engulf the annex building, where thrift store donations are stored.
"It's with a grateful heart that I share with you that in spite of the horrible and fast spreading fire, there are no injuries. God is good," said ARC Commander Major Henry Graciani. "I'm also grateful that the men's residence, chapel, administration building and connecting warehouse and store are fine with some smoke damage. Sadly, it appears the annex building has been destroyed, but we will rebuild."
The annex building contained an estimated $3 million's worth of donated goods. "January came along and we didn't know anything about COVID, and all of a sudden, we got locked down for three months," said Major Richard Larson, Administrator for Business at the Riverside ARC. "We have had so many people donate to us because…they're cleaning out their house."
Larson said the fire department arrived within five minutes of when the fire started, and he's grateful for their prompt response—the ARC even fed the firemen dinner. Unfortunately, in addition to the destroyed donated goods, fixtures for store reopenings and equipment, like 300 rolling large red plastic C-carts—equipment that allows day-to-day operations to run smoothly— were also burned. Two large balers, used to compress unsold clothing and cardboard for resale to third parties, were ruined—representing a loss of hundreds of thousands of dollars.









"I got a knock on the door saying we were being evacuated," said David Wilson, an ARC graduate who manages the warehouse and on-campus sober living. "When I came out, 2,000 boxes filled with donations were on fire. And within seconds…the trees caught on fire. It was just like an inferno."
All of the 58 current residents of the ARC were evacuated first to The Salvation Army Riverside Corps and then to  the Army's Camp Pine Summit summer camp facility in Big Bear Lake, where they stayed part of the weekend while the damage to the property was assessed. Fortunately, the ARC's residence, dining room and administration facilities were spared, along with another warehouse, which allowed the ARC to be able to go back into operation in a little over a week.
"This is the hub for all of The Salvation Army thrift stores in this area, so a lot of people depend on us," said Wilson. "Everybody had trash cans, we were scooping up the water off the ground, moving the trucks. I've seen so many people pull up and just want to give a helping hand. It's amazing to see that there's still a lot of good people out there. My heart was overwhelmed."
The Riverside ARC is a residential rehabilitation shelter program for men overcoming addiction that is largely funded through thrift store sales. A six month to one-year work-therapy program, counseling, Alcoholics Anonymous and Narcotics Anonymous support groups are part of a comprehensive rehabilitation regime that has been helping those afflicted with addiction for decades in the area. Program participants receive education and guidance, not only to combat their addictions, but build up the work and social skills needed to re-enter the workforce, regain health and stability, and restore families that have been disrupted due to substance abuse.