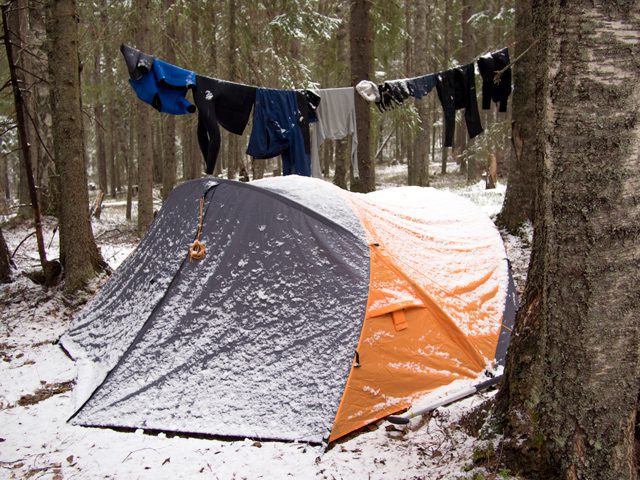 Adding warmth and safety to cold winter nights
The R.J. Montgomery Center in Colorado Springs opened an additional winter shelter in partnership with the city.
By Caramie Schnell –
As a result of frostbite following two brutally cold evenings outside in winter 2013, two Colorado Springs homeless men are now amputees.
"One was diabetic and fell asleep outside," said Gene Morris, director of The Salvation Army R.J. Montgomery Center in Colorado Springs. "Another was an alcoholic. They both went to the hospital. It wasn't a pretty sight. Now the diabetic is up walking around on prosthesis. The alcoholic is riding around in a wheelchair."
The men could have easily died, a fact that wasn't lost on either Morris or the City of Colorado Springs. To address the growing need for shelter beds, especially during the coldest months of the year, the city and The Salvation Army teamed this year to offer a warming shelter just down the street from the R.J. Montgomery Center, which opened in 1984.
Colorado Springs Mayor Steve Bach unveiled a two-year plan in January 2014 to end homelessness with two primary goals to increase affordable housing options and shelter space. That's where the partnership between The Salvation Army and the city comes into play.
"We don't want anyone freezing to death," Morris said. "There's just no reason for that, especially in Colorado Springs. That's just not acceptable."
The Salvation Army donated the use of its building on Weber Street for the warming shelter and agreed to operate the shelter for a one-year trial period that will be reassessed in April.
The warming shelter is open from 7 p.m. to 7 a.m. Nov. 1 through April 15.
"Partnering with the City of Colorado Springs has made it possible for us to open this vitally needed facility to help keep people from freezing or getting frostbite," said Major Richard Larson, The Salvation Army El Paso County Coordinator, in a statement. "We are hoping not only to save lives, but to reintegrate some of these men and women back into our community."
El Paso County, the Pikes Peak United Way and other private donors and foundations provided funding for the project. The Salvation Army pays the bills and the city reimburses them, Morris said.
To be sure, demand increased this year and the warming shelter was used more than anyone anticipated.
In 2013, the R.J. Montgomery Center would open up the center to additional people on the coldest nights.
"The very coldest night, the most people we had was 67 people," Morris said.
This winter, the warming shelter has averaged 130 people a night, Morris said, even though it was intended to be a 100-person facility.
"We figured we'd get 75 [people] in there; we didn't think we'd get this many," Morris said. "They've been at capacity for five to seven days. The numbers have definitely gone up for cold weather."
Along with mats and warm blankets, the facility provides a warm meal, restrooms and a continental-style breakfast. There are also on-site kennels available, something that's important to many individuals needing shelter with their pets. In the past, they might have opted to stay outside even on the coldest nights, rather than leave their pets behind, Morris said,
In addition to warmth and safety during winter nights, Morris said there's another benefit to the warming shelter.
"It gives us another chance to make contact with homeless people," he said. "It gives us an opportunity to talk to them, to get them into a program or help them go to church, whatever it is they feel they need."
There was a gentleman who Morris repeatedly saw for a few years.
"He'd come through many, many times," Morris said. "A few years ago he came through and said 'I'm done with it. I'm done with this alcohol.' He hasn't had a drop since."
While Morris hasn't seen the man in about a year, he's hopeful he broke the cycle.
"The last time I saw him he was clean and sober and doing good," he said. "I hope he's in a better place."
Though it's too soon to say for certain what will happen with the warming shelter next year, Morris is optimistic.
"We feel that this will be ongoing in our community for many years," he said.
_________________________________________
About the R.J. Montgomery Center
The R.J. Montgomery Center opened in 1984 under operation by the American Red Cross until 2004 when The Salvation Army took over. The 24-hour center has 200 beds where people can stay for 14 days, or longer if they enter into case management and are "working toward end goals," according to the center's director, Gene Morris.
"It could be as simple as getting employment and saving money, or it might be drug and alcohol classes, or it might be trying to get someone back on their meds," he said. "It depends on what's going on with that individual."
The rules are strict at the facility, however. There's a zero drugs and alcohol policy. People have access to two meals a day—breakfast and dinner—as well as laundry service and a free telephone. There's an attached medical facility and the center is trying to obtain approval to offer 10 beds of respite care for those recovering from health issues. People signed in at the center have access to referral services, such as drug and alcohol programs, ecumenical social ministries, job skill classes and more. The Children's Discovery Center, housed within the center, is open to families and helps provide a feeling of normalcy for children.
The center boasts that 45 percent of clients effectively transition from the center to long-term housing.