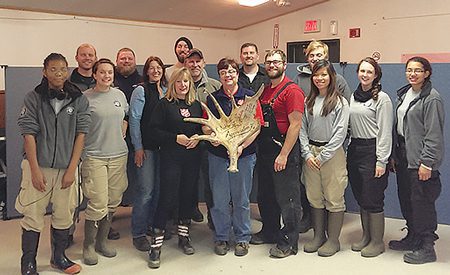 FEMA thanks Salvation Army in Alaska
Decorated moose antler presented for work in Galena
Members of FEMA and the younger FEMA Corps (members of which are considering a career in disaster response) presented Salvation Army team members with an "antler of appreciation" for the Army's ongoing Emergency Disaster Services (EDS) support in Galena, Alaska, after the town's devastation by floods.
FEMA group members decorated the moose antler and inscribed it with all the team members' names.
"What a wonderful partnership we have enjoyed, working with FEMA to meet the needs of those affected by the flood," said Jenni Ragland, Alaska divisional director of EDS. "We are grateful to FEMA for this unique and wonderful expression of gratitude for the Army's service on the frontlines in Galena."
The Salvation Army completed its full-time feeding services that began in August, and will continue to support ongoing recovery work.