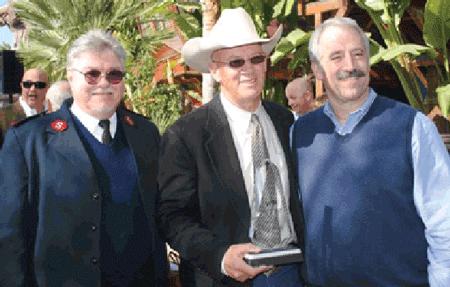 'Feed the Need' community food drive honored
The Salvation Army and partners are recognized for commitment to feeding the hungry
By Michelle Josephson, LT
A total of 134 tons of food, or 268,000 pounds, collected through the efforts of the "Feed the Need" community food drive in Fresno, Calif., during the last three Big Fresno Fair food drives have helped feed thousands of area residents. The Salvation Army partners with The Big Fresno Fair, the Community Food Bank and other local sponsors to make the drive successful.
In February, the Feed the Need community food drive received the Merrill Award, given by the Western Fairs Association (WFA) as its top award presented to fairs that demonstrate innovation, vision and excellence. The group received the tribute for its "unparalleled success achieved" during its annual food drives.
"The Salvation Army is grateful to have partnered with organizations such as the Community Food Bank and The Big Fresno Fair for an event that puts the community first," said Captain Dwaine Breazeale, Salvation Army Fresno County coordinator, who was present for the award presentation. "What an excellent opportunity for people to make an impact for their neighbors."
Fresno County Supervisors Henry Perea and Phil Larson and City of Fresno Councilmember San Quintero dedicated the Merrill Award to the entire community, challenging them to do even more: If every Fresno resident donated $1 to a non-profit, it would help the Community Food Bank and The Salvation Army provide $4 million worth of food to help hungry people, since every $1 donated buys $8 worth of food.
Other partners in the food drive included Kaiser Permanente, HandsOn Central California, Girl Scouts, Boy Scouts, Univision Fresno, Peak Broadcasting and CBS 47. Over the past three years, Feed the Need has grown into the largest single day, single location food drive in the nation.