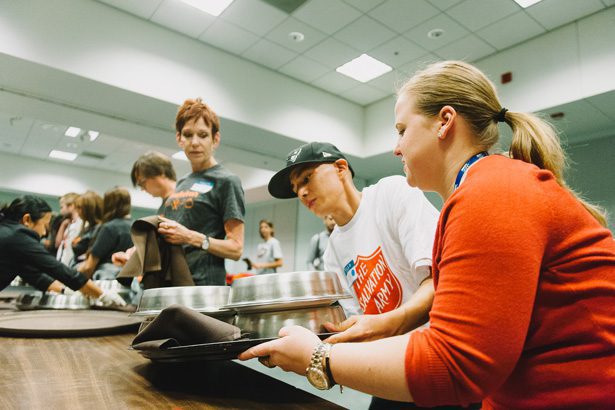 SLIDESHOW: Holidays come early for Pico Union residents
[gss columns="6″ ids="10947,10948,10946,10945,10958,10944,10957,10943,10955,10942,10941,10940,10939,10954,10938,10953,10937,10959,10936,10952,10935,10934,10933,10932,10951,10931,10930,10929,10928,10927,10926,10925,10949,10950″]
The Salvation Army's sixth annual Feast of Sharing Holiday Dinner was  held on Wednesday, November 26 at the Los Angeles Convention Center where thousands of guests enjoyed a sit-down Thanksgiving Eve meal with all the trimmings being prepared and served by  hundreds of volunteers. Nickelodeon's own J. Boogie was on hand as the guest DJ and costumed characters from some of Nickelodeon's most popular television programs brightened the smiles of the families and children enjoying a meal provided by Levy Restaurants.
Most of the dinner guests hail from the Pico Union District of Los Angeles, an area that continues to struggle economically and a place where The Salvation Army's Red Shield and Community Center has been an "oasis for families" for decades and serves more than 4,000 local children and their families each year with a myriad of services ranging from sports leagues, after-school tutoring, adult computer literacy classes and even a renowned youth ballet company.
The Salvation Army is deeply grateful for the generosity of dedicated corporate partners such as AEG, Levy Restaurants, STAPLES Center Foundation, City Year and the L.A. Convention Center and the hundreds of Volunteers they have provided to make this holiday event one to remember.
The Salvation Army Southern California Division