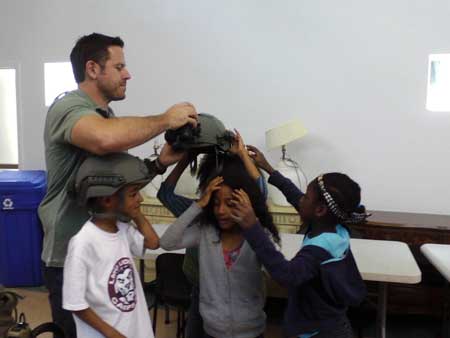 FBI trains campers
Bureau gives at-risk youth a lesson in lawfulness.
By Jared McKiernan
Children living at The Salvation Army's Westwood Transitional Village in Los Angeles got a changeup from the quintessential summer camp experience this year––complete with SWAT Team training and bomb-sniffing dogs.
For the second straight year, Westwood Transitional Village and its community partner, the FBI, joined forces to encourage approximately 30 children between 7 and 11 years old to keep out of trouble and stay on the right side of the law. At the end of the weeklong mentor program, the children graduated as junior special agents and accepted their new badges.
"These junior special agents will carry what they learned with them into their future endeavors," said Bill Lewis, assistant director in charge of the FBI's Los Angeles Field Office. "Fostering a positive relationship with law enforcement early on will help them stay drug and gang free and understand that respect for both themselves and others is paramount."
The program educated the children on issues including the history of the FBI, anti-bullying, conflict resolution, civil rights, abstinence from drugs and gangs and Internet safety through several interactive exercises.
Lisa Chan-Flagg, a Westwood Transitional Housing Advisory Board member and president of the FBI Citizens Academy, helped catalyze the partnership.
"We wanted to do something out in the community," Chan-Flagg said. "Prior to last year, there were no camps. There was nothing for these kids to do."
All of the kids who participated in the weeklong training academy are full-time residents of the Westwood Transitional Village––a 40-unit residential housing facility that offers support services for homeless families. Families can spend up to two years there while they stabilize and prepare for independent living. Approximately 150 individuals live at the Westwood Transitional Village, two-thirds being children.
Underprivileged youth are twice as likely to get expelled, suspended or drop out of high school, according to the National Center on Family Homelessness. The FBI partnership aimed to counteract this risk factor, exposing the campers to positive career choices.
One day, the children participated in FBI-simulated tactical exercises, fully decked out in official protective gear. The FBI brought bomb-sniffing dogs to the camp to greet the children.
"We even got to walk them," said 7-year-old Solomon, a first-time camper.
Aside from the rigors of training, the campers also relaxed in Santa Monica. Many of the kids had never seen the ocean before.
"The best part [of the week] was going to the beach," said 9-year-old Diamond, a return camper.
Chan-Flagg said she would like to see the partnership continue so the kids at Westwood have something to look forward to every summer. Lewis, meanwhile, has high hopes for the newly named junior special agents: "We may even see some of these promising children one day join the ranks of the FBI."