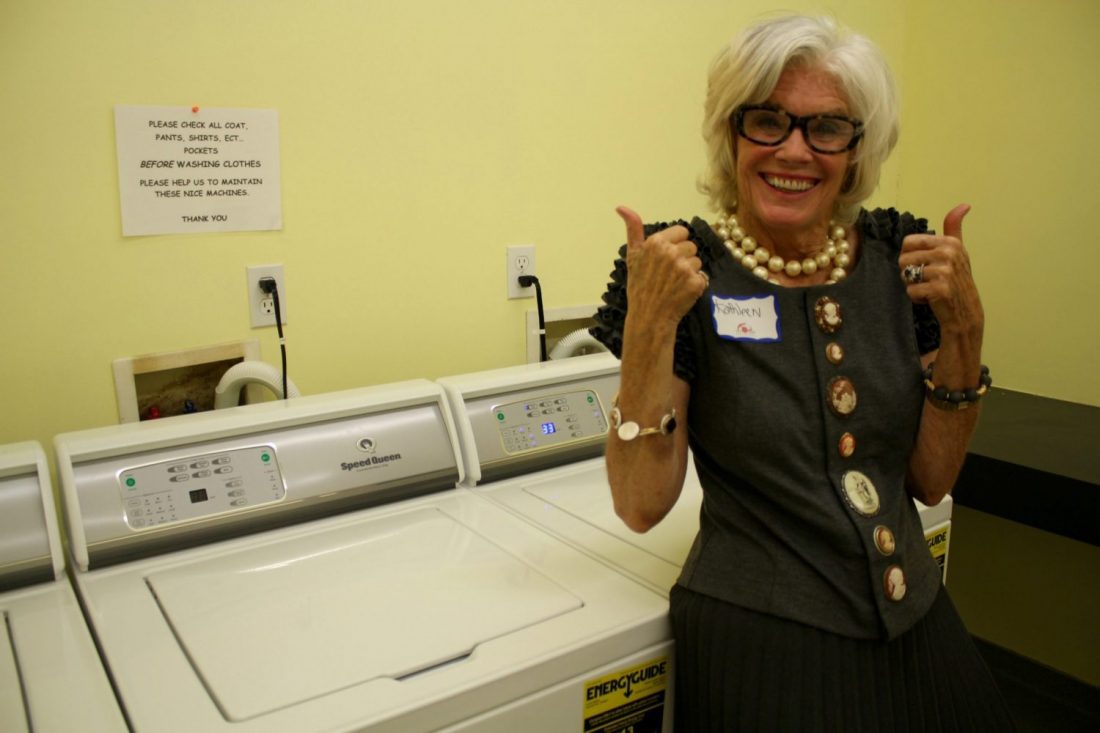 Fashion blogger fights cancer, rallies support for The Salvation Army
By Sydney Fong –
During an open house event on May 11, fashion blogger Kathleen Solmssen finally witnessed her goal to help an Oakland shelter become reality: a laundry room with new washers and dryers.
Fighting through daily exhaustion due to her essential thrombocythemia (ET), a rare blood cancer, Solmssen was able to coordinate a donation collection of $10,000 from her network of friends to purchase new industrial-sized washers and dryers for The Salvation Army Family Emergency Shelter.
"I'm excited that this is happening," she said, "but it hasn't been easy."
Following a tour of the shelter last year, Solmssen noticed the need for an upgrade in the shelter's laundry room.
"I just saw a need there," she said. "They had coined machines, and I wanted to get machines that were sturdy and that families could use for free. These families deserved that. This had to be accomplished."
In a span of two months, the 73-year-old Alameda resident rallied her family and friends to donate $10,000. She also shopped around, finding the best bargain for the washers and dryers—all in the face of a taxing health struggle.
Solmssen was diagnosed with ET, which affects an estimated 3 in 100,000 people, three years ago. She is currently taking ten chemotherapy pills a week to treat it.
"Yeah, I was exhausted, but I wanted to do this," Solmssen said. "[My friends] can at least hear me out, and I'm glad they did."
Solmssen is no stranger when comes to expressing her thoughts and opinions. She has been blogging fashion and DIY projects on her site since 2011. Solmssen has also designed jewelry, even starting her own showcase at Saks Fifth Avenue in Union Square more than 25 years ago.
"We are so blessed by Kathleen's efforts," said Captain Dan Williams, Salvation Army Alameda county coordinator. "She stepped up when she didn't have to, and she's truly an example that one person can make a difference in our community."
The Salvation Army Family Emergency Shelter has 16 rooms and a total of 84 beds, along with structured programs and access to basic social services, including assistance to find permanent housing and employment.
"It means a lot to me," said Julia, Family Emergency Shelter client. "I literally had to choose what clothes I had to wash and what clothes I can do for later because I didn't have enough money. It's an amazing gift."