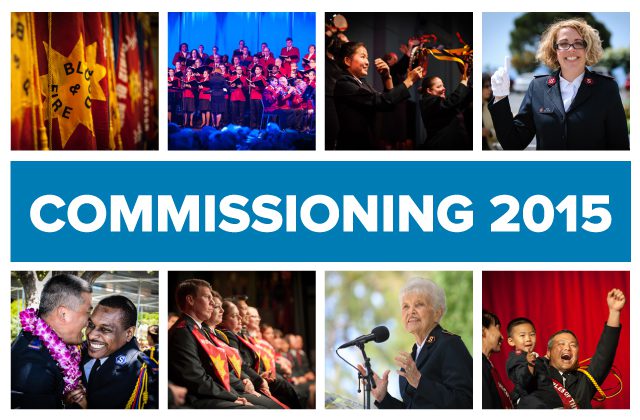 'Faith and Life' series challenges those in attendance
The Western Territory's Corps Ministries Department hosted a series of Faith and Life workshops June 13 as part of the commissioning weekend with intensive studies on Christian life and leadership in modern culture.
"We are uniquely able to speak the truth of Jesus Christ into the lives of those who have walked similar journeys," said Assistant Program Secretary for Corps Ministries Major Ronda Gilger, who coordinated the workshops. "What might this mean for those attending—if they asked God to daily show them those who are hurting, who are broken and desiring an encounter with the living God?"
David Murrow, author of "Why Men Hate Going to Church," and Major Don Gilger, men's ministries secretary, delivered a session on "Calling the Church Back to Men." Less than 10 percent of U.S. churches can maintain an active men's ministry, according to a survey from the National Coalition of Men's Ministries. Murrow contends that the church caters to women and children by cultivating a safe, predictable environment. The presentation offered suggestions for how to effectively engage and outreach to men.
Retired officer Major Eric Lo, who spoke on conflict in leadership, condensed the content from his book, "Slaying Conflict, Healing Souls."
"From ISIS to online bullying, the source is often unresolved conflict," Lo said. "We spend thousands to fix the hole in the roof but often ignore the hole in our hearts."
The Multicultural Ministries department conducted two workshops: Lt. Colonel Zoilo Pardo, territorial multicultural secretary, and Captains Sergio and Stephanie García, newly appointed Long Beach Citadel Corps officers, discussed Salvationist worship with a special performance by Groupo Karisma.
With Boundless – The Whole World Redeeming just two weeks away, Lt. Colonel Judy Smith, Cascade divisional commander, and Major Linda Markiewicz, territorial leadership development secretary, offered traveling tips and hints in "London, Here we Come!"
In "Names of God," Major Kelly Pontsler, Clark County coordinator, theologically explored how a Christian practically lives in God's presence. She said she wanted people to take away a bigger sense of God and all the ways he connects with us.
"He's big and personal and always present," Pontsler said. "Sometimes in our busy-ness we [lose] track of that."
A session on film and theology examined how The Salvation Army can evangelize to those seeking answers to their life questions concluded the series.
"It is our desire that people take away a sense of their own ability to speak back into their culture," Gilger said. "Each person has a circle of influence within their community and family. We are challenging those who attend to find ways to connect with others through the awareness that we are each seeking answers to faith questions regarding purpose, identity, relationships and relevance."