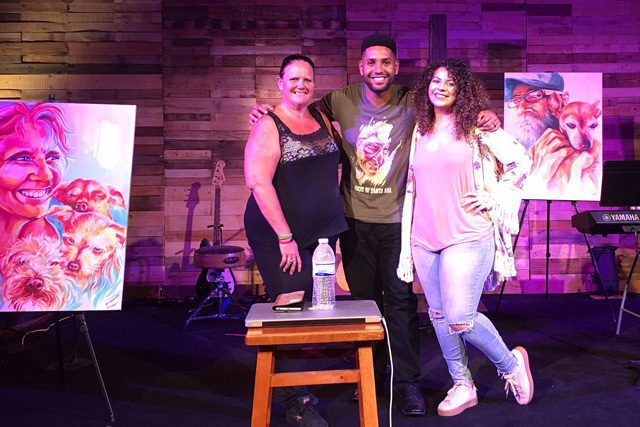 'Faces of Santa Ana' visits Anaheim Corps
Nonprofit ministry aims to alleviate homelessness, one person at a time.
"Faces of Santa Ana" founders Brian and Vanessa Peterson visited The Salvation Army Anaheim (California) Corps, where they spoke about their nonprofit ministry at the corps' Third Thursday meeting.
For the past two years, Brian Peterson has painted the faces of many homeless men and women who live on the streets around the Santa Ana Civic Center. He sells the portraits, using the proceeds to help the individuals achieve a goal. Some have found an apartment or visited out-of-state family members; others have purchased new clothes or other necessities.
"Brian and Vanessa brought some paintings and told how the ministry started and many stories of the homeless men and women he paints," said Corps Officer Major Ian Robinson.
Kimberly, one of the women currently experiencing homelessness, accompanied the Petersons to the corps, and spoke about how Faces of Santa Ana and Jesus have impacted her life. Brian Peterson displayed his work, and Vanessa spoke about marriage and ministry.
"We were extremely blessed to share how God is moving in Faces of Santa Ana with The Salvation Army church," Brian Peterson said. "Their hearts for helping the marginalized communities made us feel like we were home. Our friend Kimberly…is still talking about how kind the congregation was in listening and supporting her on her journey."
One Faces of Santa Ana outreach took place at a Santa Ana high school, where over an eight-period week Peterson taught 27 students to paint different faces. At the end of the course, the homeless men and women whose portraits they painted were invited to meet the aspiring artists.
The corps hopes to form a similar class for adults with Faces of Santa Ana.
"In the future, it would be great to dream of ways to partner with the Salvation Army Anaheim facility for an art class to reach our neighbors in Southern California," Peterson said.
For more information, visit facesofsantaana.com or find them on Facebook.