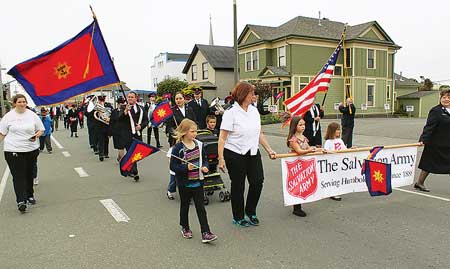 Eureka Corps celebrates
125th anniversary event reestablishes Eureka Corps' presence in the community.
 By Sydney Fong
Corps Officers Lts. Timothy and Diana Danielson hoped to make something clear at their corps' 125th anniversary on Aug. 3—that The Salvation Army is alive and well in Eureka, Calif.
When the Danielsons invited Majors Bill and Lisa Dickinson, Del Oro divisional leaders; and Lt. Colonels Doug and Diane O'Brien, territorial secretaries for personnel and community care ministries, respectively, to the corps' anniversary celebration, they weren't sure how the event would turn out.
"Yes, I had a concern," Lt. Timothy Danielson said. "Our thrift stores closed here several years ago and some thought The Salvation Army left town."
But the celebration did away with those concerns, showing residents that The Salvation Army is active within the community.
The day started with a parade from the Army's old site in downtown Eureka to its current facility, which houses the corps and the Silvercrest program.
"Great turnout," Danielson said. "I couldn't believe the reaction from people around town. We had folks talking about their experience with the Army back in the day. We also had some coming back to Eureka just for this event."
That included Elle Lowery, who first attended the corps over 40 years ago.
"I'm speechless that God provided me a chance to be a part of this," Lowery said. "I can't explain it. I'm in awe. This is home for me."
The corps held a block party with free food and music, along with a bounce house and face painting for the kids. The City of Eureka issued a proclamation in recognition of the special day.
"To have any charitable group last 125 years is huge," said Rex Bohn, Humboldt County Board of Supervisor (District 1), and one the dignitaries who presented the proclamation. "The Salvation Army has continuously provided services to so many families, and that's why they're so respected."
Additionally, the corps collected non-perishable food items to fill 125 food boxes for families in need.
"We're just reinforcing to the community that The Salvation Army is all about service," Danielson said. "And the town needs to know that we can't do it without their help and generosity."
The Sunday morning worship service capped off the celebration, with the Dickinsons enrolling four junior soldiers and Lt. Colonel Diane O'Brien bringing the message.
Lt. Diana Danielson assisted with this article