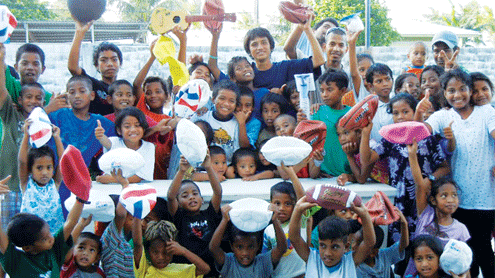 Enriching lives in the Marshall Islands
Rita Corps' new library and computer room attract youth.
By Jill Steiner, Captain
With little to no job opportunities—even with an education—it is difficult for youth in the Marshall Islands to get excited about the future. The Salvation Army decided to change that.
Early in 2010, the Rita Corps in Majuro opened a new and much-needed library and computer room to the youth of its community. By October 2010, after a new fiber optic cable finally came to the Marshalls, the corps added high-speed Internet service (256k) to the mix and the program, which saw continual growth from its inception, took off!
Every day after school—with not many other available activities—the room packs with youth of all ages anxious to read books, receive help with homework and learn to use computers and explore the Internet. Limited to eight computers—with only four connected to the Internet—the corps had to create a schedule to enable as many young people as possible to use the computers for only half an hour each day.
Tarnish Silk, son of Rita Corps Officers A/Captains Hittai and Maryrose Silk, supervises the program. Silk and his wife, Lisa, hope to become Salvation Army officers in the near future. What Silk likes most about working with this program is helping the kids with homework and learning to read. "Many Marshallese children cannot read and therefore struggle with comprehension and completion of their school work," he said.
The program's popularity has spread to other corps activities, which now include music instruction classes for youth who are serious about learning praise and worship skills, keyboard and singing. A fitness program called "Fit for Life" is in the works; leaders have begun to organize and coordinate basketball and volleyball leagues and hold tournaments and health fairs at different times throughout the year.
"Our desire is to encourage youth to increase their health, education and life skills and envision a brighter future," said Captain Robert Steiner, Marshall Islands coordinator.