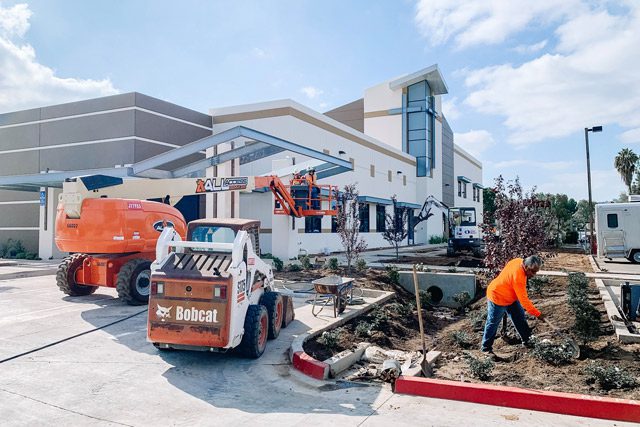 El Cajon Corps assists Middle Eastern refugees
About 60 percent of people served are Middle Eastern refugees.
By Jared McKiernan – 
Atheer Butrus knew he wasn't safe.
He was living in Baghdad working for an American company providing grants to small business owners, when he noticed the environment around him had grown increasingly hostile. 
"If you work with an American company in Iraq, you're considered not a good person, because everyone there thinks you're helping the Americans," he said. "So your life is in danger."
In 2008, the company gave him the opportunity to apply for a visa. He took them up on the offer and in 2010, he came to the U.S. and settled in El Cajon, California. He returned to Iraq in 2011 to marry his fiancée. Two years later, once her visa was cleared, she joined him in the U.S. By then, they had an 18-month-old son. But Butrus was meeting him for the first time. 
"It was crazy meeting him for the first time [at that age], but I also know a lot of people who go much longer without seeing family," he said. "My brother's family has been in Las Vegas since his kids were little. He's in Iraq still waiting on his visa even though he finished all of the steps five years ago. But his kids are teenagers now."
Butrus and his wife are now settled in El Cajon with three kids: ages 6, 2 and 1. He's working for a healthcare company, and attending The Salvation Army Corps in El Cajon.
"El Cajon is a beautiful place to live," he said. "But it's tough with the cost of rent. We have only just over $500 a month after rent. Sometimes, we get assistance from The Salvation Army."

Butrus's situation isn't entirely unique in El Cajon. San Diego County has received more refugees than any other in the state of California, and El Cajon has been a crucial landing pad—particularly for those from the Middle East.
Locals estimate that roughly half of the city's population of about 100,000 is of Arab descent, though official counts are much harder to come by.
"Just like in any other diaspora phenomenon, people follow the steps of the first explorer and settlements, and the arrival of Iraqis in San Diego is something that has been going on since the 1950s," said Adriana Ruggiero Robinson, a media and communications specialist based in San Diego. "When people emigrate to another territory, there is always a group that concentrates in one area and stay to make it grow and create a sense of home. That is what happened in El Cajon, where today there is an extensive network of resources and community services in Arabic."
Many refugees are waiting on pending visas for family members, but even those who have reunited with their families struggle to gain a foothold in the community and keep up with the high cost of living.
The Salvation Army in El Cajon estimates that Middle Eastern refugees comprise about 60 percent of the population it serves. So one of the challenges is and has been, how do you go about building a cohesive community rather than one with a dual identity?
"The families that are here are often very large, they live together and they have to really pull things together to make it all work," said Captain Sean Kelsey, El Cajon Corps Officer. "We're definitely mindful of that when we're working with that population, just knowing that they're at a disadvantage when they come through our doors. So we're always asking, 'how can we help them feel like part of the community? And how can they feel like part of the support The Salvation Army provides?'"
As Captains Sean and Bonita Kelsey prepare to open the new 20,000 square-foot East County Red Shield Community Center in El Cajon, they're making it a point to mind who—specifically—they serve.
"Asylum seekers get quite a bit of help from the government, as far as getting a place to live," said Bonita Kelsey. "So here at The Salvation Army, we tend to get a lot of requests for furniture, clothing, diapers and especially food."
One of the biggest obstacles they've faced in meeting the unique needs of this population is a practical one: many of them don't speak English, and when you're trying to find out what exactly they need help with, it can get a little frustrating for both sides. 
To help alleviate that, the Kelseys have asked Butrus and others on several occasions to come into the corps and help translate the needs of other Middle Eastern refugees from Arabic to English.
"The culture is very different," said Bonita Kelsey. "So that's been very helpful having someone to try to help them understand the process of getting assistance."
"It's been really good to be able to help them be understood," Butrus added.
Beyond working to remove the language barrier, they're also beginning to stock their new client choice food pantry with more of the dietary staples specific to the refugee population: healthy fats, lean proteins and whole grains.
"We're really focusing on food," she said. "We make our staple bag very simple. Originally, [the Middle Eastern population] didn't know how to use a quarter of the things we gave away. A lot of times, they'd skip out on certain proteins. The new food bank is going to be a client choice pantry, so we'll cut down on waste and there will be a little more room for them to shop."
By the same token, they're trying to help facilitate the assimilation process, and that includes teaching them to cook with some of the food pantry items they're maybe less familiar with.
"We're going to have something for everyone, whether it's the food bank, families with kids, or learning to prepare food a little bit differently than they're used to," said Sean Kelsey. "We're excited about it."
The grand opening of the new community center is scheduled for Nov. 2.