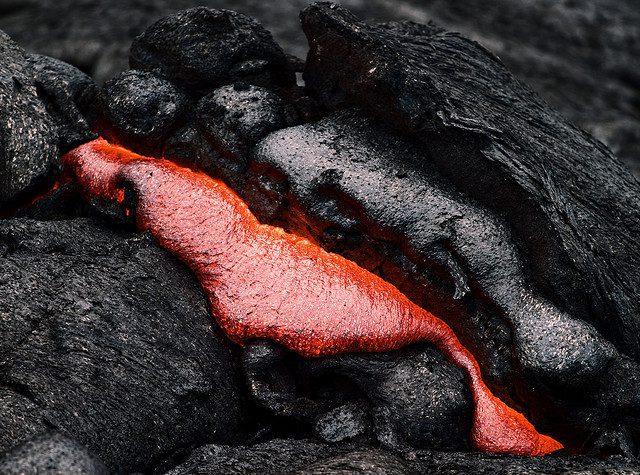 Army prepares to respond to Pahoa lava flow
Salvation Army emergency personnel in Hawaii are mobilizing response to the Pahoa lava flow from the erupting Kīlauea volcano.
"The Salvation Army is part of a team of agencies providing assistance during this pending event and working closely with both the State of Hawaii Voluntary Organizations Active in Disaster (VOAD) and the East Hawaii Island VOAD," said Major Mark Gilden, divisional secretary for business for The Salvation Army Hawaiian & Pacific Islands Division.
Hawaii County Civil Defense officials are predicting will cross the main highway in the coming days. With lava flow moving at 15 to 20 yards per hour, officials are monitoring its advancement and keeping residents posted on new developments. Parts of the main street in Pahoa has been closed and limited to area residents, the county announced.
Kīlauea is the most active volcano on Hawaii, and has been almost continually erupting since 1983. However, the direction of the lava flow changed in June and has since engulfed farms and a cemetery on the outskirts of the village. The lava reaches temperatures of over 1,600°F, destroying almost anything in its path.
"At this point, we anticipate The Salvation Army will be providing displaced residents, emergency management workers and volunteers with food and water, overseeing a planned temporary storage area for personal property, and facilitating emergency donations," Gilden said. "In addition, our mobile canteen is on standby for use on the island."
The public is encouraged to support the emergency disaster services efforts via monetary donations at hawaii.salvationarmy.org or by calling The Salvation Army – Hawaiian & Pacific Islands Divisional Headquarters at 808-988-2136. One-hundred percent of the donated funds will support The Salvation Army's emergency disaster services in Hawaii.  Pahoa area residents in need are encouraged to contact The Salvation Army's Hilo Corps Office at 808-935-1277.
The American Red Cross also announced it will open a shelter to house any displaced evacuees.
Monetary donations will be needed to meet displaced residents' most immediate needs:
A $10 donation feeds a disaster survivor for one day

A $30 donation provides one food box, containing staple foods for a family of four

A $100 donation can serve snacks and drinks for 125 survivors and emergency personnel at the scene of a disaster

A $250 donation can provide one hot meal to 100 people or keep a hydration station operational for 24 hours

A $500 donation keeps a Salvation Army canteen fully operational for one day