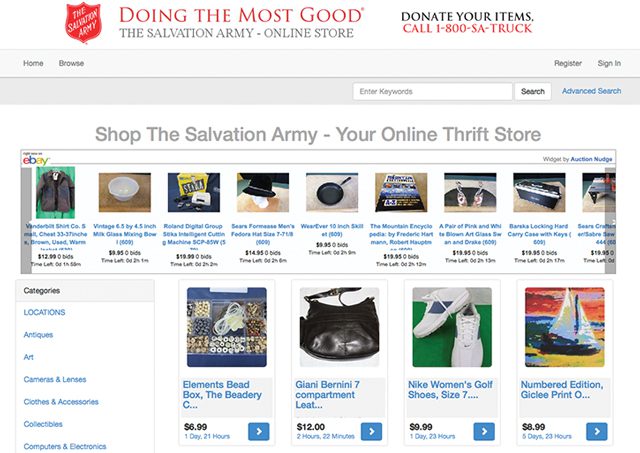 Salvation Army online auction site now live
Sales transition from eBay to dedicated platform after eCommerce success.
By Christin Davis –
"Item condition: plastic, missing paint, chip on one ear."
The Breyer Molding Company model horse and three like it sat on the shelf at a Salvation Army thrift store in Spokane, Wa., priced at $1.89 each.
The lot sold at auction on eBay a week later for $3,939.
"We couldn't believe it; we were screaming," said Kelly Bafaro, eCommere specialist in the Northwest Division, who works out of the Spokane store. "We knew the Breyer horses were collectables, but we expected to get $25 to $30 for them."
Bafaro spends a couple hours a day sifting through donated items, looking for those that would sell for more online—from collectable horses to a stereo receiver, golf shoes or three-feet-tall light-up plastic toy soldiers (all items she did sell online).
She is one of 13 dedicated employees of the division's eCommerce effort, which launched in January 2014 and now operates out of 10 corps-operated stores. The online auction lets the market dictate the value of the item, which to date has produced $244,000 in gross sales.
Casey Edwinson, eCommerce manager, developed a system that allows the Army to run one online eBay storefront through its multiple thrift stores. The eCommerce specialists scour store shelves, shoot and post product photos and descriptions to eBay, ship sales and respond to customer emails.
After a 4.8 percent combined fee to eBay and PayPal, the discounted rate given to nonprofits, sales income is received at divisional headquarters and then attributed to the store of origin so that the profit funds local programs—such as in Yakima, Wa., where the food bank is part of the store.
"We've had great success—finding an art print, for example, that wouldn't sell in the store for $10 but sold for $1,500 online—and we don't want to miss out on money for the mission," Edwinson said. "People who do the best at this job love to treasure hunt. An eBay specialist has to love 'Antique Roadshow.'"
When Bafaro watched a "60 Minutes" episode about eBay power sellers over 15 years ago, she joined in and peddled items herself outside of her job driving a school bus. Now, "I'm a Salvation Army picker," she said. "I love digging through stuff…it's like it's not a job."
Bafaro said it takes a knack for seeing quality in an item and an attention to detail to craft its description to be both accurate and appealing. On a whiteboard in the store, where employees take guesses on final bids for their most promising items at auction, Bafaro tracks words she's learned—like "epergne," a flower vase with three horns. She recently sold one for $300.
"I think it's fantastic that I get to enjoy myself so much while supporting the mission of The Salvation Army," she said. "The point is to raise money for our programs—whether online or retail, we're all working for the same purpose. Our basic job is to help people in our community."
Given its success, Edwinson is taking eCommerce a step further. He opened the Army's own auction site, shopthesalvationarmy.org, in May. A limited product selection is posted daily to the site, however high-value items will continue to post to eBay for now.
"That's where all of the customers are," Edwinson said. "It's going to take a lot of advertising to get customers to our own auction site, but that's the goal in the next one to two years."
In addition to no fees, the Army's own auction site will also allow analytics and customer data to help The Salvation Army connect better to people.
It's not a novel effort—Goodwill Industries launched the first nonprofit auction site in 1999, generating $250 million in its first 15 years. The site offers items for auction from Goodwill stores across the country, and its advantage, Edwinson said, is its unified approach.
"The Salvation Army is fairly segmented with divisions, territories and the Adult Rehabilitation Centers Command, and Goodwill doesn't have that problem," Edwinson said. His goal is to create the go-to site for Salvation Army sales. "Our site can incorporate different currencies and languages; it is built to assume others will want to come on board."
It is an undeniable market in the U.S. as used merchandise stores bring in a combined annual revenue of $15 billion. Thrift stores—those that sell mostly donated goods with proceeds going to charity—generate $9 billion of that amount, according to IBIS World.
"Perhaps as significant as the income is the simple fact that younger generations live online, and that is a space that we absolutely have to be in if we want to capture their attention," said Piers Fairclough, assistant business administration secretary for enterprise development in the West. "Unfortunately, we are late to the game, but I feel we have the expertise and motivation in our territory to make the move to online sales in a relatively short period of time and, as with other areas of technology, set the standard for the other territories."
To start, Edwinson is working to incorporate stores outside of the Northwest Division, proving that he's settled the kinks and knows how to overcome the challenges of operating one online storefront from many stores. To join, a store simply needs a desk, packing supplies and an eBay specialist, willing to treasure hunt.
"It's been fun to watch the eCommerce effort grow and to have more people to share tips with," Bafaro said. "And now everyone knows to watch for those horses."