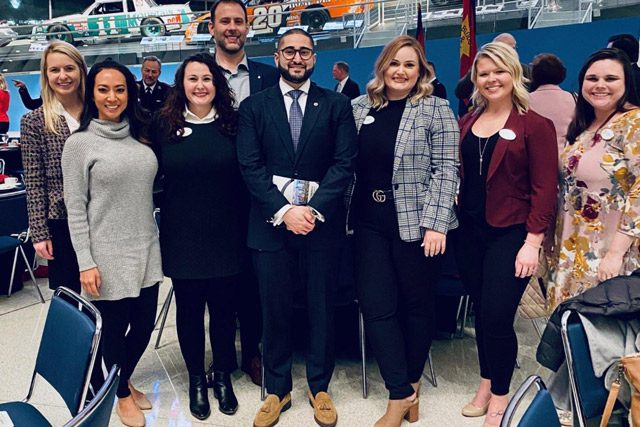 Echelon eyes NAOC 2020: Better Together
Chapters of young professionals group grow
By Jared McKiernan –
At The Salvation Army's National Advisory Organizations Conference (NAOC) in 2016, Echelon was gaining traction. With NAOC 2020 approaching in April, Echelon chapters across the country will get to show just how far the movement has come since then. 
Echelon bills itself as "the emerging professionals arm of The Salvation Army," giving young adults an opportunity to amplify the work of The Salvation Army in a local setting, through volunteering and fundraising activities. It started as a way to create a pipeline for future Salvation Army board members, but it's taken on a life of its own. 
"The goal of Echelon is to mobilize the next generation of The Salvation Army supporters to get those individuals engaged in helping their local [Salvation Army], while having fun meeting other like-minded individuals around their age," said National Echelon Leadership Council Chair Janie Flowers. 
National Headquarters (NHQ) set a goal last year to plant 50 chapters nationwide by the end of 2020, and while there's work to be done to reach that milestone, the growth thus far has been promising. 
Echelon has grown from 10 to 25 active chapters since 2016. And that doesn't include roughly 20 more chapters currently in development and another 20-plus locations that have expressed an interest in starting one. 
Given this type of growth, NHQ has worked to keep pace with the emerging obstacles and growing pains of each budding chapter.
Last year, NHQ migrated each chapter onto the new Echelon website. The centralized platform features a number of membership management features, which allow chapters to better keep tabs on their member databases, collect dues, sell event tickets and send out text and email blasts. 
NHQ also doled out around $79,000 in grants to 23 active and developing chapters to fund recruitment efforts and marketing materials.
In October, NHQ began doing field calls to educate interested parties about what's happening with Echelon nationally and provide chapters an opportunity to ask questions and share best practices with Echelon members from around the country. 
And Echelon's been a priority in the Western Territory, too. 
The West is now home to nine Echelon chapters, the most of any U.S. territory: Portland, Seattle, Anchorage, Honolulu, Sacramento, San Francisco, Las Vegas, Ventura and Denver. Each one has assumed an identity unique to the needs of the community it serves. 
In Anchorage, for instance, Echelon members have taken to preparing and serving dinner each month to the guests and volunteers at the Emergency Cold Weather Shelter at ChangePoint Church. 
The Las Vegas chapter holds a "Grub Crawl" event that raises money for a different cause each year. Last year, funds went toward renovating the recently reopened Safety Dorm for the transgender homeless community.
In Honolulu, Echelon has partnered with local schools for four years running in what's called the "Red Pencil Project." It began as a simple, one-time back-to-school supply drive, but it's become much more. At one of the schools, Echelon even came up with a four touchpoint program in which members visit with the students every quarter with a new activity focusing on a character trait: generosity, kindness, compassion and service.
Members of the recently chartered Seattle chapter dove right into numerous service projects, including preparing meals for veterans living at the William Booth Center and painting three rooms at the Women's Adult Rehabilitation Center in Seattle. Such outings have gone a long way toward boosting member engagement, but every chapter is finding its own recipe for success. 
At NAOC 2020: Better Together in Chicago, Echelon will host several sessions, including, "Leveraging Social Media to Build Your Brand and Influence Others," "Echelon from a Divisional Perspective," "Echelon Event Best Practices," "Linkedin: Professional Profile and Modern Recruitment" and "Essential Steps To Echelon Success." They'll also have a presence at one of the main sessions. 
Katie Seifu, National Echelon Manager, said the Echelon offerings at NAOC are based on a lot of the conversations among NHQ, officers and chapter leaders over the past year. 
"One thing that's exciting is it's not just the established chapters coming to NAOC," she said. "We have a few places that are in the early, early stages of forming a chapter who are also having representatives come. So they get to come and network and come learn from the established chapters. And I think the biggest excitement is just being able to meet all of the different Echelon members from around the country as we expand that network and just be able to show all that we've been able to do."