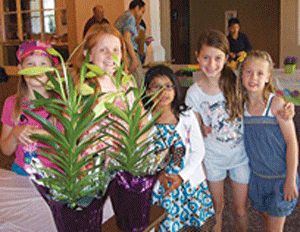 Easter lily outreach
Tustin Ranch Corps shares the joy of Easter with its neighbors.
By Donna Jackson, Major
An air of excitement energized soldiers and corps members who gathered to participate in the Tustin Ranch (Calif.) Corps Easter outreach. The God-given vision of Bill Stevens—age 86 and a long-time soldier of the corps—the idea met enthusiastic approval first by the corps council and then by the soldiers and friends of the corps.
Stevens' vision was to take an Easter lily and invitation to Easter Sunday services to an estimated 1,000 homes in the corps neighborhood.
As the vision became a reality, corps families were invited first to donate money to purchase the lilies and then to commit to helping with the door-to-door delivery. Deborah Davis spearheaded the logistics of the event, compiling maps and locations for those who would go out into the neighborhoods. Entire families participated—children joining their parents and grandparents.Corps members of every age came together for the event that began with prayer followed by brunch.
Several new families attended the Easter worship service, which began with a musical prelude featuring the Tustin Ranch Band and Songsters, cellist Sara Koo and pianist David Dunford. The worship service featured the junior band, singing company, Sophie Perez, Koo, Dunford and the band and songsters.The corps is already planning its next outreach opportunity, again to the homes in surrounding neighborhoods.