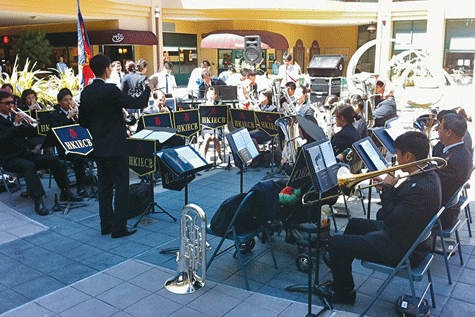 East meets west
Hong Kong's "Musical Mission Force" visits Oakland Chinatown Corps.
By Sara Tarano
The Salvation Army Hong Kong Island East Corp's "Musical Mission Force" visited the Oakland (Calif.) Chinatown Corps and made several appearances with them in the Greater Bay area. The group came to the U.S. to help the San Francisco Chinatown Corps celebrate its 125th anniversary.
On Aug. 18, they presented an open-air concert at the Pacific Renaissance Plaza followed by a special performance at the Oakland Chinatown annual fundraising dinner. Over 400 donors, community members and city leaders attended the nine-course traditional Chinese banquet. Oakland Mayor Jean Quan expressed her continued support of the work the Army is doing in Oakland.
On Aug. 21, more than 30,000 people flooded the downtown area around the corps for a community festival. The band participated in a march of witness parade through the streets led by Del Oro Divisional Commander Major Doug Riley and over 100 additional Salvation Army officers, soldiers and friends. The Oakland Fire Department led the procession.
The afternoon closed with an open-air meeting led by Oakland Chinatown Corps Officer Major Grace Tse.