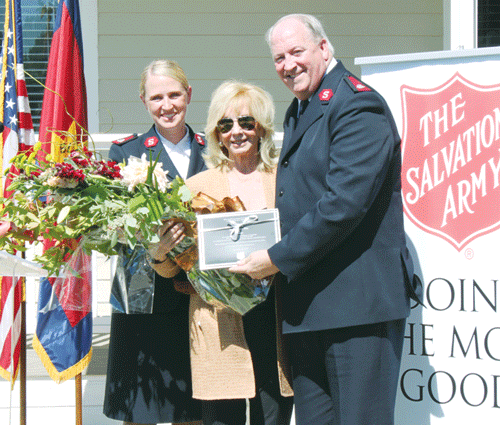 E. Claire Raley Transitional Living Complex now open
New 35-unit center will house homeless families in Sacramento.
By Sydney Fong
The Salvation Army officially opened its new E. Claire Raley Transitional Living Complex in Sacramento Sept. 20. The 35-unit center will house families who were homeless.
Each family qualified for this housing program through The Salvation Army's Family Service Department. All participating families may live in the units from six months to two years. Caseworkers will work constantly with each program participant to find permanent housing and employment.
For those who have a history of drug or alcohol abuse, recovery and prevention meetings will be available.
Sunnie, 32, along with her two children, recently moved into the housing complex. She has struggled with drugs and hopped from one shelter to another.
"[The Salvation Army] is giving me a chance to get myself together," Sunnie said. "It's a way to not go down the same road I went through before. I can get my education, get a job, and get back on my feet and not worry about having a place to stay."
The Salvation Army in Sacramento raised more than $3 million to purchase the property and start the housing program.
"The need for transitional housing for families in Sacramento is huge," said Major Douglas Riley, Salvation Army Del Oro divisional commander. "To keep families together is critical these days. To help them in times of trouble and turmoil, that's why we are here."
Joyce Raley Teel, co-chairman of the Board of Directors for Raley's Family of Fine Stores, donated $2 million toward the project's capital campaign. The living center is named in honor of Teel's late mother, E. Claire Raley.
"I think it's going to be a wonderful experience for these people who had such a difficult past," Teel said. "I'm very proud of this program. I'm glad my family could make a difference, along with many other donors."
The donation also served to recognize the work of The Salvation Army, which assisted E. Claire Raley's family when she was a youth.
"My mother told me that The Salvation Army helped her family out when times were tough," Teel said. "For some reason, I never forgot that. I just have a great admiration for them. Any disaster, they're there. It impressed me, and here I am, trying to do my part and give back."