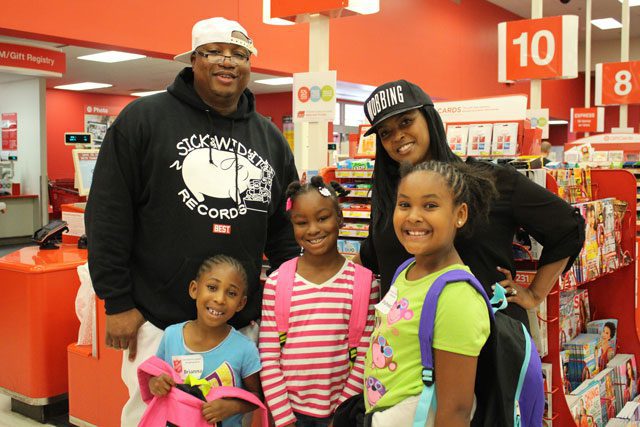 E-40 surprises kids at back-to-school shopping spree
By Sydney Fong – 
Nine-year-old Marshall scanned the Fairfield Target store for a pair of shoes and jacket. Then, he spotted something to his amazement.
"Is that E-40?" he asked.
Indeed, it was. The popular hip-hop artist and Vallejo native visited The Salvation Army Solano County's back-to-school shopping spree event on August 9, as a surprise guest and volunteered with his wife and his friend.
"It's all about the kids," E-40 said. "They were happy to see me and I'm definitely happy to see them."
Not only did he volunteer, but E-40 also donated $2,500 to The Salvation Army, which helped send 25 youngsters to this shopping event.
"When you have new clothes," he said, "you have more motivation to do things, like going to school and getting things done. You don't want to go to school and have nothing new on. I mean, that hurts."
The shopping spree lasted less than two hours, with each of the 100 participating children spending $100 each on clothes and shoes. The children, who ranged from kindergarten to sixth grade, also received backpacks filled with school supplies.
"This day was amazing," said Capt. Jonathan Harvey, Salvation Army Solano County coordinator. "To see these kids shopping for what they want and to see our volunteers having fun them, it was truly great to witness this."
Along with E-40's donation, The Salvation Army also received contributions from its Advisory Board and Jelly Belly.
"This is a total community effort," Harvey said. "From E-40 to our nearly 100 volunteers, you had so many on board to make this event happen. It's about giving kids and their families some joy and some hope."
That didn't go unnoticed by Marshall's mother, Carmen, a Vallejo resident.
"It means a lot to us because it's hard out here," Carmen said. "It's a struggle, so I'm glad that we got the opportunity to experience this. Also, we got to see E-40, so that's a bonus."