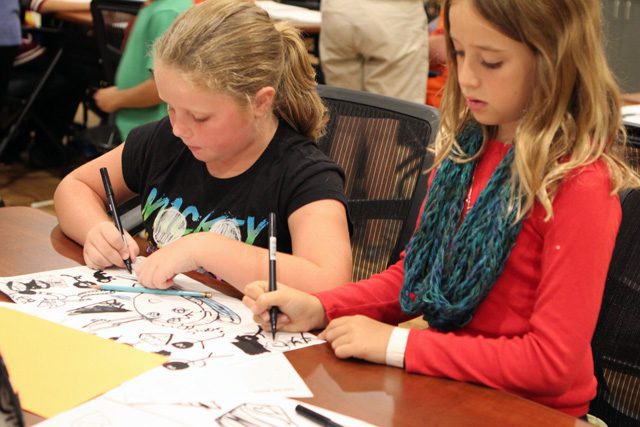 Drawing Comics 101
San Diego Kroc Center develops comic artists in a weeklong summer camp.
By Angel Roy –
Eleven months out of the year, he's Peter Delgado, senior graphics and web designer at The Salvation Army Ray and Joan Kroc Center in San Diego, Calif.
By the summer day camp season, he's a rock star.
"Mr. Peter!" the children yell before high-fiving him as he passes on the sidewalk.
"It's really gratifying to get out of the office for a little bit and get to teach kids creativity," Delgado said. "It gives me a different perspective of my job and adds more creativity to my job."
Delgado, an artist and comic strip enthusiast, has twice volunteered his time to teach a weeklong Drawing Comics 101 summer camp for ages 6 to 12 at the Kroc Center.
"I think if I can infuse kids with any kind of creativity as early as possible, I feel like I'm providing them that opportunity to use their minds and have fun," he said. "I would have loved to have went to a camp like this."
The camp began with comic book history and featured one of the most notable rivalries in the business—Marvel versus DC.
"If [the kids] are interested in comics, it's always good to have that background and just know the history of what they're doing," Delgado said, adding that Stan Lee's Marvel movie cameos were part of the new pop culture elements found in this year's program curriculum.
Campers were taught how to create comic lettering, headlines and storylines. They learned character development by brainstorming whether a person, animal or even an inanimate object would be the star of the comic, and they took the story a step further by building out the lives and personalities of the cast.
"When I was a kid I learned a lot about comics and helped my imagination grow just by being inspired by the adventures [the characters] were taking," said Mel Apostol, a camp counselor who served as Delgado's assistant during the comic program. "Listening to the other campers' ideas and creativity was really cool."
Campers were grouped together to create their own comic book "companies" and logos to produce a final comic book to share with the class on the last day of camp.
For Delgado, listening to the children read their comics together and talk about their work was the highlight of his week.
"I like comics because you can literally do almost anything with a comic," Delgado added. "If you want a superhero piece of butter, you can do that. There are endless possibilities."