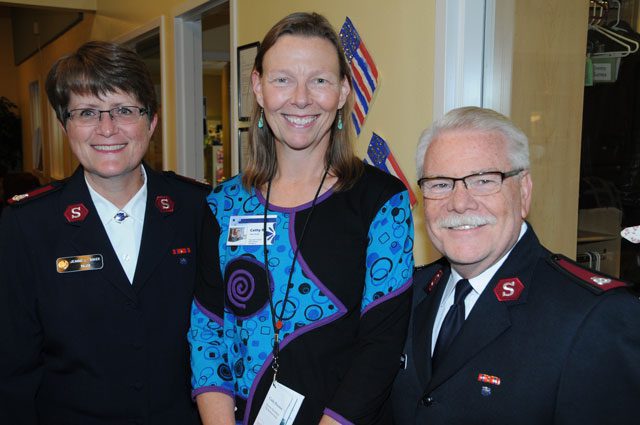 Donors see 'serendipitous' effects of gifts
Anchorage Red Shield Society tours Serendipity Adult Day Services program.
By Heidi Franklin –
The Salvation Army Alaska Division biannually organizes tours and informational events for the Red Shield Society, an elite donor group that supports the Army's work in Alaska, to reveal how their generosity is transforming lives.
"We couldn't deliver the quality programs we offer without these individuals and organizations' continued support," said Major George Baker, Alaska divisional commander. "We owe a great amount of appreciation and respect to all the donors that help to make this work possible."
Recently, members were able to attend an informational gathering and tour of The Salvation Army Serendipity Adult Day Services program in Anchorage. It aims to enhance the quality of life of adults with cognitive and functional impairments through daily activities including exercise, music, socializing, crafts, games, picnics and walking. Since 1985, Serendipity has worked to keep families together and delay or prevent nursing home or institutionalized care.
Baker opened the event, thanking the Red Shield Society members for their support and faith in the work of The Salvation Army. He also shared that Serendipity Adult Day Services is the first adult day center in the nation to receive the "Excellence in Care" Dementia Program of Distinction Certification by the Alzheimer's Foundation of America.
"Alaska's senior adult population is the fastest growing in the nation, and we expect the demand for services like Serendipity Adult Day to increase," said Cathy Brenner, Serendipity program director.
Serendipity beneficiary families told stories about finding themselves at the center's door, and how relieved they were to have found a program that radiated so much warmth and love. Donors can sponsor attendance two days per week ($100), month or year of Serendipity care for a person in need through its scholarship program.
"So friendly, so nice, caring people, so kind," said participant Peggy Coulson about her experience at the center. She enjoys the variety of activities—from art, to dance to Scrabble and simple exercise—and said she loves coming to Serendipity.
Jan, from another beneficiary family, said that her mother-in-law, Arlene, asks her almost every day when she is going back to Serendipity. She said, "It means so much to me knowing how much my mother-in-law loves attending."