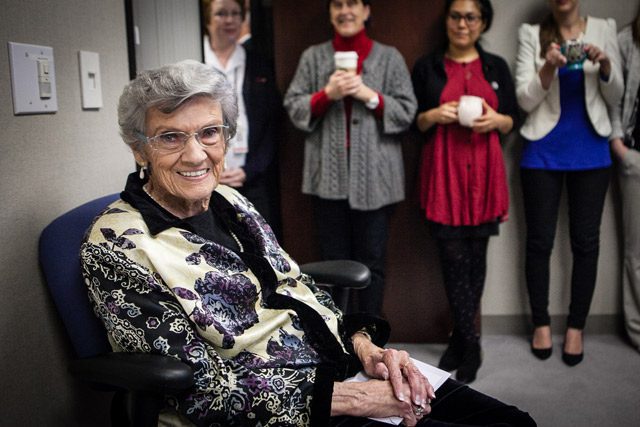 Donor establishes anti-trafficking endowment 
Lemoyne Gooding, a retired longtime employee, seeks assistance, awareness for survivors.
By Kathy Lovin – 
Lemoyne Gooding—who retired from The Salvation Army Western Territory in 2014 after more than three decades of service—has established the Gooding Anti-Trafficking Endowment.
At 95, Gooding said she wanted to give in a way that will outlive her to help expand the Army's anti-trafficking efforts and make sure others know about them. 
"The world doesn't know that the Army is involved in anti-human trafficking work," she said. "I want them to know and to give generously, too." 
As her health has declined in recent months, Gooding worked with Territorial Social Justice Secretary Major Keilah Toy and Gift Planning Specialist Lambert Bittinger to establish the endowment to care for individuals rescued from trafficking and spread the word about the need.
The International Labour Organization estimates that there are 40.3 million survivors of human trafficking globally. According to the Polaris Project, traffickers use violence, threats, deception, debt bondage and other manipulative tactics to force people to engage in commercial sex or provide labor against their will.
The Salvation Army has been involved in anti-trafficking work since it began combatting child sex slavery in 1885. The Western Territory opened its first safehouse for rescued survivors in 2008 and established its Social Justice Department in 2015 to further the Army's efforts. 
"The Salvation Army has more than 43 anti-trafficking programs and initiatives across the nation, 12 of which are in the Western Territory," Toy said. "This generous endowment will be utilized across the territory, expanding the Army's current programs and creating new initiatives for years to come—from outreach to those in the sex industry, to biblical training on overcoming pornography addiction, providing safe housing to survivors, holistic case management, skills training and more, The Salvation Army continues its Fight for Freedom in combatting human trafficking."
Gooding's association with The Salvation Army goes back to her own beginning. She was on the Cradle Roll at The Salvation Army Citadel Corps in Los Angeles and, although she attended a Presbyterian church with her family, she went to the Young Persons meetings at the Los Angeles Corps. After she married in 1947, she began attending the corps regularly and until recently, she continued to worship at the Army, often taking an Uber to attend services at the Torrance Corps.
"The Presbyterian church introduced me to Jesus, but the Army taught me about Jesus and about giving," she said. For her, the shield is the symbol of The Salvation Army's care and service to people in need. One of the greatest impacts the Army has on the world, she said, is that it invites people to donate financially and become an integral part of the ministry of caring.
When Gooding retired from the Army at age 90, her years of employment placed her in the top 20 among THQ employees for years of service in the Western Territory. She first took a part-time job in the territory's Trade department, helping to fill uniform orders after becoming an empty nester. Eventually, she went full-time and later worked in New Frontier Publications, answering inquiries from inmates on War Cry coupons for everything from questions about becoming a Christian to joining The Salvation Army or requesting Bible study materials. She later joined the Community Relations and Development Department fulfilling a similar role.
She once heard from an inmate who asked for help getting his brother's death certificate from the Russian government. Not surprisingly, she wasn't sure where to start, but said she managed to get it anyway—and sent a Bible in Russian along with the copy of the death certificate.
Now, her name will be connected to caring for others in a new way.
"I was created to give and believe we all are," Gooding said. "Giving has brought me much joy and affected the lives of those around me. More than anything, I want others to know that joy."
This endowment, Gooding said, is her invitation for others to know the joy of giving and the blessings of God that come from it. To see the campaign and make a gift, please visit salarmy.us/Gooding.