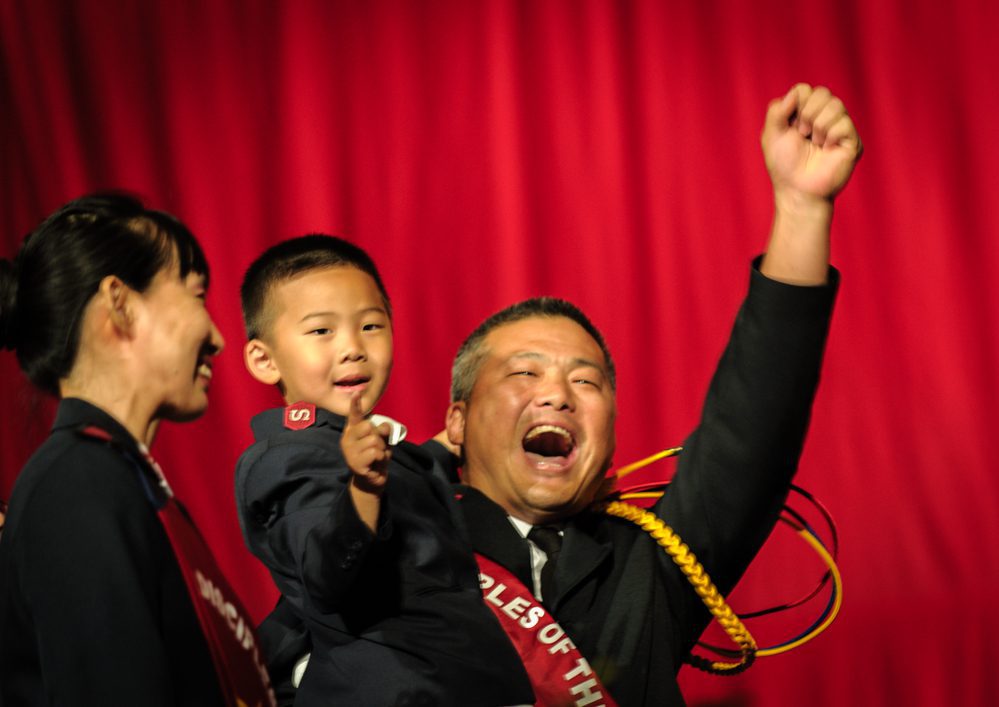 Appointment service sends out new lieutenants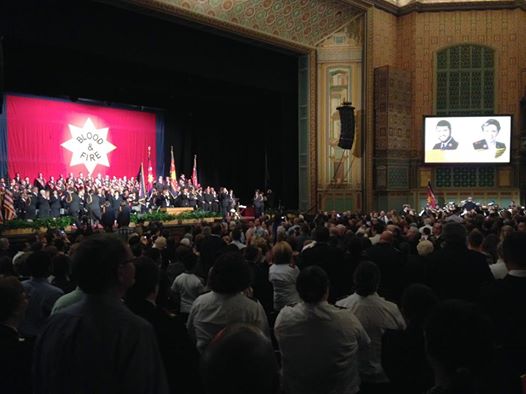 The cheers and claps of nearly 2,300 people welcomed to the Pasadena Civic Center auditorium stage June 15 members of the West's Territorial Executive Council, including territorial leaders Commissioners James and Carolyn Knaggs, weekend guests General Paul and Commissioner Kay Rader (Ret.) and Denmark territorial leaders Colonels Knud David and Lisbeth Welander.
Following the procession of past session flags, the now second-year cadets took to the stage before the newly commissioned Disciples of the Cross marched in, draped in a red session sash.
With the session seated, Carolyn Knaggs took a selfie with the group and led attendees in singing "Make the world with music ring."
"One thing which will never change, no matter where in the Western Territory we may go, who we meet, or where we are appointed, we will always be Disciples of the Cross," said Lt. Dawn Preston as the session representative speaker. "Each disciple has a unique testimony about how God has worked through us and called us to officership."
Preston admitted she struggled with the call to officership, but ultimately accepted it was God's plan for her life.
"We are disciples of the cross," she said. "We have been filled up with the Holy Spirit. We have been lavished in prayer. We have studied, we have learned, and now we are excited to start the work which God has called us to."
The session responded with its song, aptly titled "Disciples of the Cross" by Matt Spencer, accompanied by the second-year Heralds of Grace.
This year, Lt. Colonel Check Yee gave the charge to the new lieutenants after being greeted by a standing ovation. Yee served for 35 years as corps officer of the San Francisco Chinatown Corps (1959-1994), which under his leadership became one of the most celebrated corps in the Army world. During that period he enrolled nearly 700 soldiers, officiated at 500 marriage ceremonies, hosted a weekly television program, designed a state-of-the-art corps facility, and raised almost $1 million for relief projects in China. His service was recognized in 1997 with the Army's highest honor, Order of the Founder.
"You have just been commissioned and ordained this morning as ministers of the gospel of Jesus Christ," Yee said. "You are blessed people because you have been called by the one who said, 'you have not chosen me, but I have chosen you.'"
Yee said he fell in love with The Salvation Army at 21. "How can you not love the Army's style, its uniqueness?" he asked.
"After today you're going to be sent out—listen—in the global village. You are going to meet people of all languages. You may hear a language other than your own, but this is your city. You will be there. Your life will never be the same. You are chosen, therefore you are blessed."
Yee commented on the "awesome picture" before him. "Look at you," he said. "You look so smart, full of energy, and ready to go. It is awesome because you are in it." He recounted the morning of his own covenant service, where under his session flag he sang, "I am in his hands."
"What is love? It's a word we talk about every day," Yee said. "But some people abuse the essence of love. As a Salvation Army officer, love to me is what William Booth said to his son Bramwell regarding the homeless under the London Bridge: 'Go and do something.' This is what love is all about."
Yee said he still likes the Army's slogan from the 1960s: "People are Our Business."  "Technology does not produce love. We do," he said. "In God's boundless ocean, in boundless salvation, boundless mercy, we can visualize an unsaved multitude. My dear lieutenants, you have proclaimed in public that you will be Disciples of the Cross."
He instructed the lieutenants:
"Your credential is a BA – born again.
Your weapon is the Bible.
Your testimony is your uniform. Wear it right.
Your power is prayer.
Your banner is love.
Your song is joy unspeakable.
Your sacrament is holy life.
Your baptism is the anointing of the Holy Spirit.
Your communion is the bread of life and the living water.
Your altar at home or anywhere is the mercy seat.
Your theology is Christianity in action.
Your password is Blood and Fire.
Your credit rating is accountability.
Your supply is God's grace.
Love people, be faithful."
The Knaggs then appointed 54 lieutenants to locations throughout the Western Territory, and the Welanders appointed the three cadets from the Denmark Territory.
"Today we have commissioned 57 lieutenants; praise God," Knaggs said. "The training of officers in The Salvation Army is a disciplined and strenuous responsibility…we offer the staff our gratitude."
Both sessions of cadets sang "If You Would Be Strong," followed by a congregational song, "Ever is the war cry," and the benediction led by Program Secretary Lt. Col. Edward Hill.