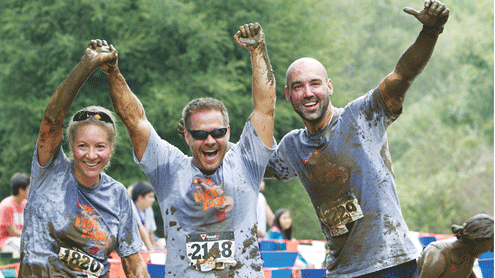 Dirt dash raises money for campers
Annual event helps inner-city youth attend summer camp.
More than 1,300 people came out to The Salvation Army Southern California Division's 6th annual Malibu Dirt Dash, with over 1,000 participating runners who raised money to help disadvantaged children attend summer camp.
Held every year at the end of the summer, the Dirt Dash funds the upcoming camping season at camps Mt. Crags and Gilmore in the Malibu Canyon. For this year's event, The Salvation Army partnered with Dole, Aramark, Pepperdine University and TrueSense Marketing, among others.
The event features a 5-and 10-kilometer run through Malibu Creek State Park and an optional mud run and obstacle course. Each participant can set an individual fundraising goal or raise money as a team to help provide camping opportunities to kids all over the Los Angeles area.
Camp Director Mark Logan was especially thankful to corporate sponsors who helped make the event such a success. "The cash contributions and donated goods and services provided by our corporate partners lent greater credibility and value to this year's event and increased support for our ministry and the work we are doing for underprivileged children in Southern California," said Logan, who is looking forward to an even bigger and better event next September.
The following racers achieved top spot finishes (provided by Gemini Timing): 5K Mud Run—Anthony Allen (M), Nicky McClintock (F); 10K Trail Run—Anton Aguila (M), Angela Brunson (F);5K Trail Run—Hector Diaz (M), Amy Perdiew (F);Fitness Walk—Randall Meale (M), Angela Luke (F).