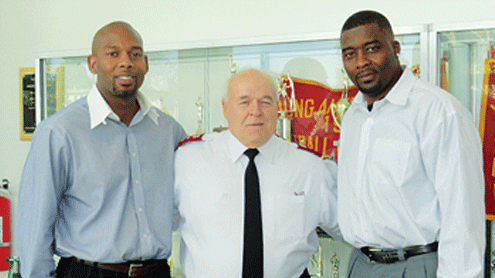 Denver Red Shield kicks off fall season
Center holds youth rally and welcomes a former Denver Broncos player.
By Ron McKinney, Captain
The Denver Red Shield held a "Super Hero of the Bible Back to School" youth rally on Aug. 14, kicking off its fall programs.
With attendance of 158 at Sunday school—133 children and 25 adults—the event featured a memory verse from Prov. 3:5, the story of David and Goliath, a group sing-along and the debut of a new puppet ministry. The corps plans to follow the rally with a 10-week Sunday school contest where students will earn points, which they can redeem for toys and prizes.
Rally preparation began on Thursday, Aug. 11 with an Evangelistic Neighborhood Campaign, when a team including Red Shield Corps members and the 18-member Glen Erie National Evangelistic Team distributed more than 200 flyers advertising the Sunday event to the community.
Former Denver Broncos wide receiver Rod Smith visited the Red Shield on Aug. 18 to show support for the center's "Disciples" 2011-2012 football program. Currently, Red Shield members ages 6-14 participate in Police Activities League football throughout Metro Denver.
This year marks the 70th anniversary of the Red Shield's Disciples 1941 city championship team.
Smith spoke regarding desire, attitude and what it takes to be a winner in life as well as football. He and other NFL alumni have agreed to participate at the Red Shield's 70th anniversary Neighborhood Rally on Sept. 1.