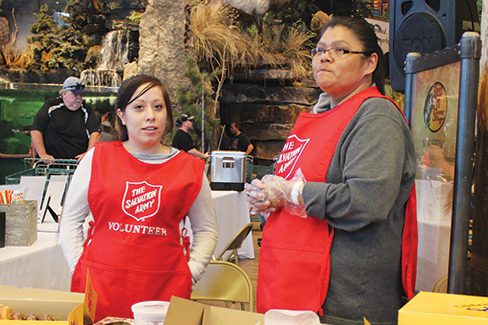 Marking a milestone
Denver ARC raises over $5,000
By Tahreem Pasha-Glenn – 
The Salvation Army Denver Adult Rehabilitation Center (ARC) partnered with Bass Pro Shop during National Salvation Army week in May and raised $5,600 through donations and a silent auction to support the ARC program.
Throughout the day, anyone who donated gently used items to the Family Store received a 24 percent off coupon from Bass Pro Shop. Outside, ARC staff barbequed and had a silent auction for prizes contributed by local businesses, including a cabin stay, restaurant deals, a baseball bat signed by Rockies player Carlos Gonzalez and a Traeger barbeque grill.
"The event overall was a great success," said Lt. Allison Struck, director of special service for Denver's ARC. "The whole point is to raise awareness and help. I believe we achieved that. The Salvation Army is so much bigger than one program or one person."
"Colorado's Best," a local TV morning show, aired a live five-minute segment from the event featuring items you can find at your local Salvation Army Family Store, how to upcycle some of your finds and the benefits of thrift shopping.
"This collaboration opened up new doors for the ARC," Struck said. "Our program was introduced to a new demographic of people who had not realized how easy it was to donate and how their donations were helping."
ARC beneficiaries helped bag purchases, hand out donuts and collect donations.
"Its great to see the ARC beneficiaries on the giving end," Struck said. "Service and giving back is important. It's another opportunity for them to realize that they were saved from something for something."