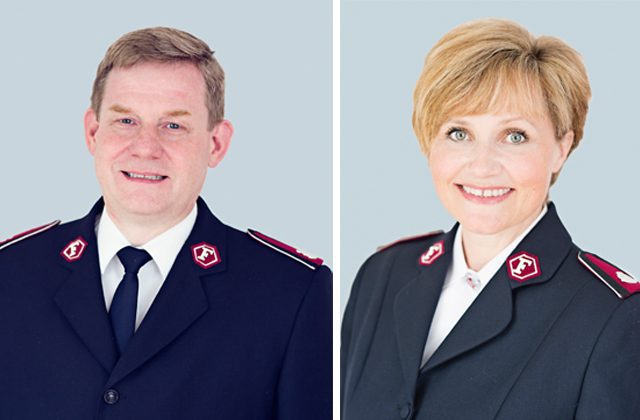 Danish leaders visit the West
With three Danish cadets as part of the Disciples of the Cross session, Denmark Territorial Leaders Colonels Knud David and Lisbeth Welander joined in the USA Western Territory's Commissioning weekend.
The Denmark Territory—a Partner in Mission to the Alaska and Hawaiian and Pacific Islands divisions­—is without a training college, so it sends cadets to train in other territories, including Australia, the United Kingdom and Norway. These are the first European cadets to be trained in the West.
"We are happy to be here to support our cadets, but also to see the fruits of the training they have received here," Knud David Welander said during his first visit to the West. He was also present to commission and appoint his cadets alongside their session mates. "We look forward to having them back in our territory, and hope they will return with the fruits of their training here."
The Danish cadets fully participated in the two-year training program, including taking Christmas and summer assignments in the West. Two of the three chose to pursue an associate's degree and completed all necessary coursework to earn it.
"One of our goals is that cadets see The Salvation Army as a global entity and understand how they fit in the work of the Army from a global perspective," said Major Cindy Foley, who leads the College for Officer Training (CFOT) at Crestmont with her husband, Tim. "Any time we can bring the corners of the world to our campus, of course it enhances the training for everybody."
When the Denmark Territory announced its officer moves this spring, CFOT held a special appointment service for the Danish cadets. They were also invited to return for the West's Commissioning 2015, and the Territorial Officer Institute and reunion for the Disciples of the Cross next June.
"They will always be Danish officers," Foley said, "but Tim and I will always be their training leaders."