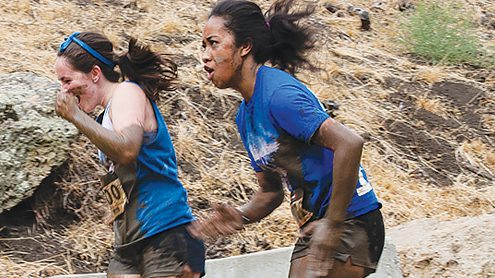 Dashing through Malibu Canyon dirt
Annual event raises money to send kids to camp.
 By Robert Brennan
On Sept. 21, more than 600 running enthusiasts from all over Southern California converged on the Malibu Canyon location of The Salvation Army's camps Mt. Crags and Gilmore to take part in the eighth annual Malibu Canyon Dirt Dash and Mud Run.
Runners combined passion for the sport with a desire to help children as the entry fees will help provide camping experiences to underprivileged and deserving children during the 2014 summer camping season.
"The goal of the Mud Run was not only to raise funds for next year's campers, but to let the general public—like all our runners today—know this special place exists with an equally special mission," said Camp Director Marty Brown. "That mission is to let young people who live in very difficult circumstances know we love them and God loves them."
The Dirt Dash/Mud Run was specifically designed to appeal to experienced, dedicated runners as well as to novices. A fitness walk and Kid's Mud Run focused on family participation. The traditional 5k/10k Trail Runs as well as a 5k Mud Run were augmented by several components—rope climbs, swings, bridge crossings and a mud pit—to provide seasoned and amateur runners alike a memorable experience.