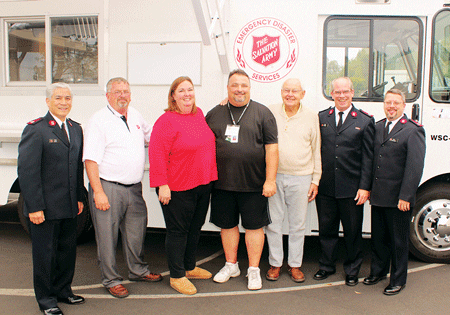 Custom built from the chassis up
College for Officer Training receives its own canteen.
 By Ron Toy, Major
Custom built from the chassis up, a state-of-the-art, 16-foot mobile kitchen—commonly known as a canteen—now resides at the College for Officer Training at Crestmont, thanks to the generosity of Western Territorial Headquarters.
College leaders plan to use the canteen as a tool to help train future Salvation Army officers for the field. It will provide hands-on experience to present and future sessions of cadets through classroom training and practical field training.
Emergency Mobile Kitchens of Phoenix, Ariz., built the canteen. Owners Paul and Sara Helbert designed and managed its construction and then personally delivered it to the college.
Ken Cavallero, territorial disaster services director, introduced the Helberts and Garold Scofield, Sara Helbert's father, during the dedication ceremony. Each of them gave a testimony of their commitment to Christ and to The Salvation Army's mission. Sara Helbert revealed her Salvationist heritage through her grandparents who were active at a corps in Pennsylvania.
Major Tim Foley, training principal, received the canteen and offered a dedicatory prayer of blessing for its use and for the people that it will serve.
"Like a first aid kit or fire extinguisher," said Foley, "if we ever need it, we will be prepared to use it.
"With this new addition, we can now go out as Paul wrote in 2 Timothy, to Preach the Word; be prepared in season and out of season, without using words."