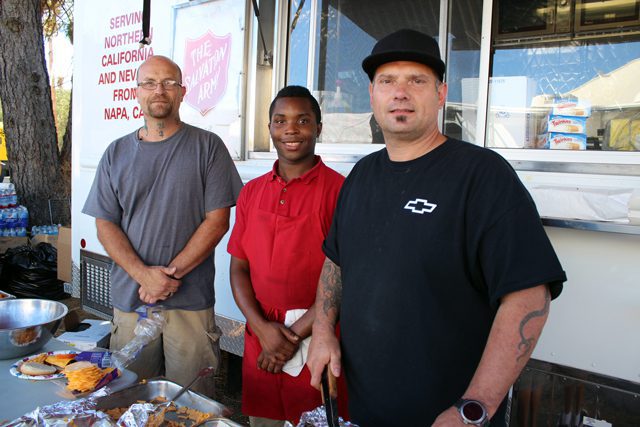 Culinary students use training at wildfires
Hope Harbor Culinary Arts Program students respond to emergency need
By Sydney Fong – 
Several students from the Lodi, Calif., Hope Harbor Culinary Arts Program are processing what they witnessed at two separate wildfire scenes.
"It looked like a warzone out there," said Gabriel Lozada, a culinary student. "There was smoke everywhere, the sky was red, grass and trees were charred. I've never seen anything like that before."
Lozada and three other students—Ronald Duran, Prince Gallop and Christopher Hoke—volunteered at two of the biggest wildfires in California history: the Butte Fire in Calaveras County and the Valley Fire in Lake County.
The 16-week, residential culinary arts training program accepts 10 students per session from area Adult Rehabilitation Centers and other sobriety programs. It includes academics, hands-on training, visits to food service operations and one-on-one mentoring by industry professionals to prepare students to be a prep or line cook.
In the face of the fires, the students were sent out to assist with meal service to emergency responders and other personnel.
 "Our Hope Harbor is an emergency disaster relief facility—a shelter for emergency disaster—and we have our students normally train at the shelter," said Captain Martin Ross, Lodi Corps officer. "It seemed like it was a natural thought to see if any of the culinary students would like to volunteer."
The experience of preparing and serving meals out of the Emergency Disaster Services canteen was a long, exhaustive task for the students.
"It was a 14-hour day for us," Hoke said. "By the time we drank our coffee, then we were cooking breakfast, then preparing for lunch and right after that, it was dinner. And then, boom, the day was over."
Each student believes the culinary program prepared them for the hectic schedule and the demand of their job.
"What we strive to do is instill a sense of urgency," said Barry Crall, culinary arts instructor. "Working in the kitchen is one of the top five stressful jobs to have, and working out at the canteen is stress."
But the students didn't let that stress get to them.
"We worked together pretty well; we're like a good tight family," Duran said. "We knew what we had to do when we got there. We knew what we had to work with, so we just put everything together and fell right into place."
The students know they brought hope to people during a difficult time.
"I want to be at service for people who are going through their trials and tribulations," Gallop said. "God was there for me, and having people caring for me when I was going through [hard times], and I was able to finally give back."