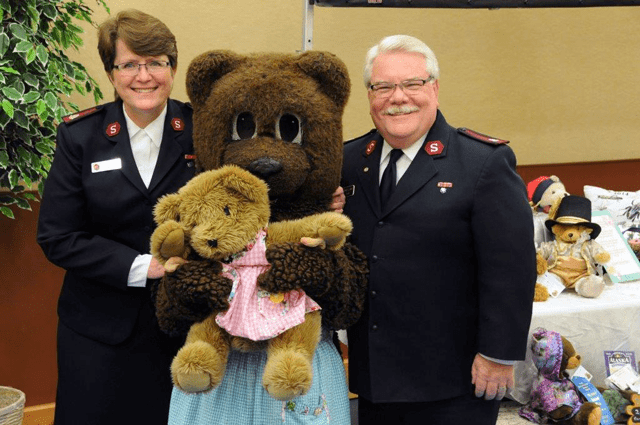 Cuddle for a cause
The Salvation Army in Anchorage hosts 15th annual Teddy Bear Tea to benefit area social service programs and corps.
The Salvation Army in Anchorage, Alaska, held its 15th annual Teddy Bear Tea Oct. 18 at the Anchorage Corps, where close to 200 bears–specially decked out for the occasion–awaited new homes.
Sheila Balistreri, recently retired longtime news anchor at Anchorage's KTUU Channel 2, emceed the event, which featured live and silent auctions.
The Salvation Army Women's Auxiliary organizes the tea, which benefits the Army's local social service programs and corps. This year's event made over $10,500, a significant increase from last year's $6,800, due in part to the use of an Army building instead of a rented facility.
About a month before the event, volunteer bear-dressers select their bears and start outfitting them in costumes and clothing fitting one of nine categories: Bears at Work, Bears at Play, Familiar Faces, Celebrations, The Younger Generation, A Teddy Bear's Year, Family Pride, Furry Friends and Bear Extravaganza.
Major Jeanne Baker, divisional director of women's ministries, received "Best in Show" for her fire and rescue crew of bears.
Other submissions included a mariachi band of bears with an elaborate backdrop, as well as a bathing beauty bear, a Doctor Who bear, a doctor and nurse pair of bears, and numerous gift baskets including bears as well as toys, books and gift certificates.
"We try to make this a really family-friendly event," said Diana Justus, one of the coordinators.
The event has attracted some longtime, devoted volunteers. Michelle Pope, an employee at First National Bank Alaska, has participated in the event on and off since the early 1990s. Today, she coordinates the involvement of her coworkers, and says the Teddy Bear Tea is a fun annual tradition and friendly competition that she's proud to support.
The Salvation Army Anchorage Women's Auxiliary is a group of women who volunteer their time to support The Salvation Army's ministry in the community.
View more photos at the Teddy Bear gallery here.