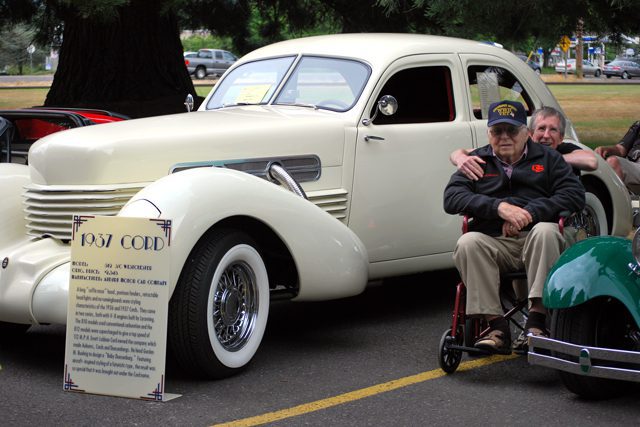 Cruise In supports veterans
 The Salvation Army in Oregon holds 4th annual Veterans Cruise In.
By Teresa Steinmetz – 
Red roadsters and blue hot rods filled parking lots and driveways at Valley Catholic School in Beaverton, Ore., July 11 for The Salvation Army's 4th annual Veterans Cruise In.
The event also featured motorcycles, classic fire engines, police vehicles, and an entire lot filled with military vehicles, new and old, for a total of over 250 vehicles on display.
Hundreds of people attended the Cruise In, which included activities for the entire family. The annual free event raises money for The Salvation Army Veterans and Family Center in Beaverton through vehicle registration fees and donations collected on-site in Salvation Army kettles.
People could race Matchbox and remote control cars at The Salvation Army and Franz Bakery booths, pull down on the big horn of a military vehicle and talk to dozens of vendors. The Corral Creek Blue Grass Band and Classic Track DJ provided music.
"We believe that part of the success of this Veterans Cruise In is connected to the fact that many of the car owners are veterans themselves, and they see the need in the community to help their fellow veterans," said Rick Stoller, Veterans and Family Center director.
One notable visitor was nonagenarian Bob Schwartz, the only World War II veteran in attendance, who came with his friend Greg Joseph. Schwartz told Joseph that he hoped to see a Cord automobile because he had owned several of them in the past. Sure enough, they soon spotted a white Cord, which made Schwartz's day.
"It was a privilege spending time with my good friend in an atmosphere that we both enjoyed and that sent Bob back to a time of good memories," Joseph said. "They even presented him a beautiful World War II medallion, thanking Bob for his patriotic service to his country."
In its first three years, the Cruise In raised over $67,000 for the Veterans and Family Center, a transitional housing center for veterans and their families who are experiencing homelessness. The money funded construction of an ADA accessible ramp in the center's backyard. Proceeds go to wherever the need is the greatest, whether it's a special project like the ADA accessible ramp, food, fresh coats of paint in rooms, or other necessities.