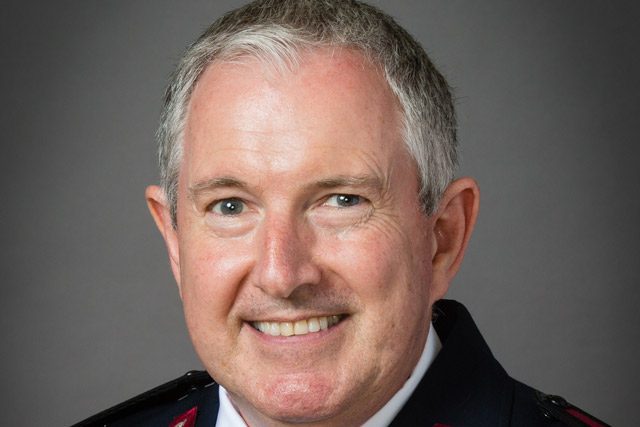 Crestmont welcomes new Training Principal 
Major Nigel Cross is Training Principal at the College for Officer Training. 
Major (Dr.) Nigel Cross assumed the role of Training Principal at the College for Officer Training (CFOT) at Crestmont Jan. 8 from his previous appointment as Assistant Training Principal. Before that, Cross served as Assistant Director of Curriculum and as Director of Personnel at CFOT. 
"It is an enormous privilege to be appointed to this position of trust, building on the legacy of the past and moving forward to equip and train effective 'Blood and Fire' officers who will meet the challenges of today and in the decades to come," Cross said.
As Training Principal, Cross succeeds Major (Dr.) Brian Saunders, who received an appointment to the Australia Territory. 
"I'm confident about the future of the College," Saunders said. "Major Cross is the right person to serve as Training Principal."
Cross said the leadership transition has been smooth.
"At CFOT we have a culture of encouragement and care creating a strong, supportive environment," he said. He also spoke of the strength of the CFOT team.
"We have a terrific team of officers and employees who undertake all they do with excellence," he said. "Likewise the cadets are eager to learn and develop so they can be effective in ministry both now and in the future."
A lifelong Salvationist, Cross was born in Christchurch, New Zealand, where he was active at the Christchurch City Corps, serving as a Sunday school teacher, corps pianist and songster leader. He received bachelor's degrees in both music and psychology from Canterbury University and worked as an intermediate school teacher.
In 1985, a scholarship enabled him to study abroad and he earned a Master of Music Education in Music Therapy from the University of Kansas. He then worked as Divisional Music Director (DMD) in the Western Missouri and Kansas Division in the Central Territory, before transferring to the Northwest Division in the Western Territory, where he was both DMD and Adult Christian Education Director.
During this time, Cross became a U.S. citizen.
He furthered his education at Fuller Theological Seminary in Pasadena, California, attaining a Master of Divinity degree in 1999. In 2000, he became the Discipleship and Lay Leadership Director at Western Territorial Headquarters. In 2009, Cross received a Doctor of Ministry degree from Fuller. 
His life journey of ministry continued when he and his wife, Major Stacy Cross, were appointed as Auxiliary Captains to the Santa Barbara (California) Corps in 2003. 
In addition to Santa Barbara, the Crosses served as corps officers in Centennial, Colorado, and Tustin Ranch, California, which included Orange County Coordination. They have one son, Jamie, who is now a high school senior.
Cross said his plans for CFOT include updating curriculum to meet current and future needs, improving systems to give everyone a voice, providing careful stewardship of resources, and expanding training opportunities for the cadets.
"In the future we will continue to add to excellence at CFOT," he said.