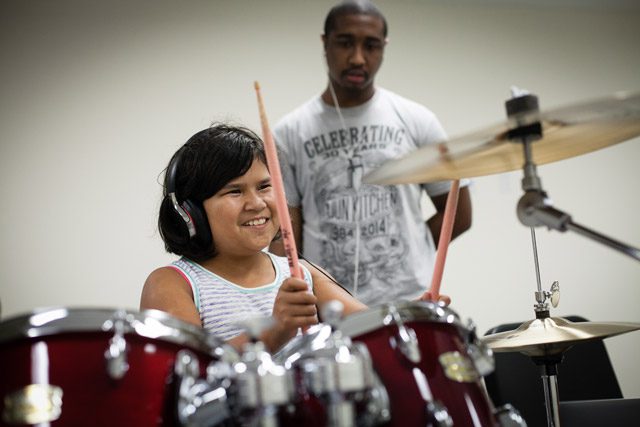 Crescendo lives up to its name  
Music and dance ministry amplifies at the Torrance Corps
By Sue Schumann –
Students of all ages are learning to make music at the Southern California Division's new Crescendo Music and Dance, located at the Torrance Corps.
"It's open to all," said Garry Lawrence, director. "Our youngest student is a 5-year-old, and our oldest is a 79-year-old who brought his granddaughter in to learn guitar and then decided to take piano lessons himself. He hadn't played the piano in years."
Crescendo—named for the musical term meaning "getting louder"—opened last September. While it operates six days a week and provides lessons in dance, brass, woodwind, strings, percussion, guitar, and vocal, it's more than a music school. "It's definitely and distinctly an outreach ministry," Lawrence said.
"The Army's long, rich heritage of music ministry has reached incredibly high standards across the world. So often this is confined to those already within this organization. Crescendo is a chance for us to use the skills we have gained as an evangelism tool," said Kevin Larsson, director of Southern California Divisional Music Ministries. "Training up fine musicians is really just a byproduct of the ultimate goal of the school, which is to bring people into fellowship of The Salvation Army, and for them to build a relationship with Jesus Christ."
Bridging the gap between the music school and the corps is key to Crescendo. "Everyone associated with this program—the school staff and teachers and the soldiers and members of the corps, are 100 percent committed to making this a reality," Larsson said.
Crescendo operates in what was unused space at the Torrance Corps, previously home to a preschool. Renovations to the 3,500 square-foot facility include nine soundproofed practice and teaching rooms, a keyboard lab and a dance studio. Currently, seven instructors provide 84 individual lessons per week. "The goal is to have 300 lessons a week, but our capacity is immense," Lawrence said. "We have a list of teachers who are vetted and approved, we are waiting for the need." All instructors are Christians with degrees in music.  
Voice and piano teacher Shalini Henry-John has a bachelor's degree from Azusa Pacific University in music, with an emphasis in church music. "It's such a joy to come to work. I love what I do," she said. "It's a journey and each student is different. You get to be someone significant in their lives."
Lawrence has a musical background as well. A lifelong Salvationist, he is the former bandmaster at the Boscombe Corps, United Kingdom, and has been in musical leadership since he was 16. He also conducts the Southern California Divisional Youth Band. "I've worked with youth all my life. It's one of my passions," he said. Lawrence and his wife, Julie, assistant to the director, relocated from England to lead the program.
In keeping with the mission of ministering to students and families, future plans include establishing a coffee house, complete with barista and free Wi-Fi, so parents can have a place to rest and relax while students take lessons. Major Brian Bearchell, corps officer, said televisions in the area will have announcements about The Salvation Army. "It's the corps' opportunity to tell parents about the Army and the church, to let them know who we are," he said.
In addition, concerts at the corps will provide opportunities for corps members and students' families to connect as they come together to watch the students perform.
A professional quality recording studio is in the works, designed by Grammy award-winning audio engineer Dan Blessinger and Kevin Hughes. Both are consultants at DB Mix. In addition to recording Salvation Army musical groups, the studio will be available for rent and will allow for instruction in sound engineering, lighting and audiovisual.
Rates for Crescendo are competitive, and scholarships are available.