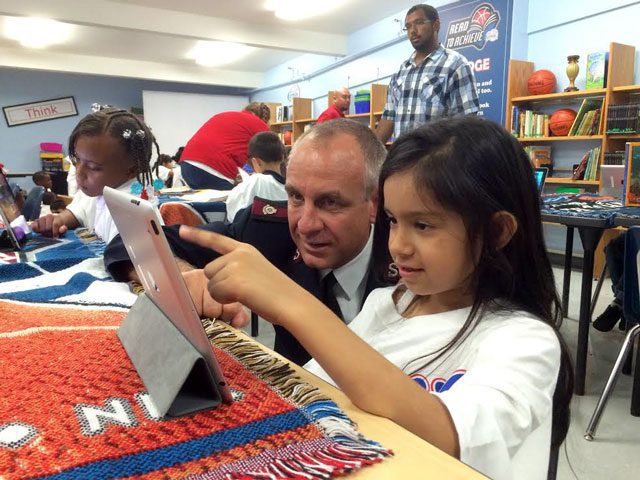 Chris Paul celebrates Siemon Center renovation
The Clippers point guard provides new fitness and learning equipment.
By Jared McKiernan – 
Hurricane Katrina struck just two months after the New Orleans Hornets drafted Chris Paul in 2005.
So, Paul developed The CP3 AfterSchool Zone to help rebuild the City of New Orleans by providing a stable after-school environment for youth. After he was traded to the Los Angeles Clippers in 2011, his uniform and teammates changed but his philanthropic work picked up in L.A. where it left off in New Orleans.
"I visited this place two days after I was traded," Paul said of The Salvation Army Siemon Family Youth & Community Center in South Los Angeles. "It will always definitely have a special place in my heart."
The all-star point guard returned Monday with his mother Robin to celebrate the facility's renovation, made possible by donations from his own Chris Paul Foundation and the Los Angeles Clippers Foundation.
Over 20 computers and tablets now line the upgraded library and media and technology lounge. The fitness room is stocked with cardio equipment and the game room now features a big-screen TV, new furniture, and even a miniature basketball hoop, which Paul playfully shot around on with several kids at the center.

"It's all about having an opportunity and it's one of those things that we as people and as communities, we have to sort of try to make it an even playing field at some point," Paul said. "You think about computers and technology and how the world is so technical now, and you just want to make sure the kids have an opportunity to do that."
The center also includes a licensed child care center for over 70 kids, arts and crafts room, gym, classroom, dance and performing arts studio and photo lab. Through its Family Services office, it offers both living and emergency assistance to low-income families.
"The investment put into this will affect our community, the City of L.A. and our country 5, 10 years from now,"  said Siemon Center Executive Director Mortimer Jones, who played a key role in opening the center in 2003. "Anything we give [our kids] affects their lives for tomorrow."
Paul encouraged the kids to treat the new technology as a tool for learning, not just recreation. "Don't see these computers and think it's all about games," Paul said, adding that he doesn't even allow his two children to use their iPads on weekdays.
Major Kyle Smith, general secretary of The Salvation Army Southern California Division, spelled out the bigger picture.
"This is not about a computer lab, this is about you guys," he said, addressing the room full of kids. "One of you guys could become a rocket scientist. You know that? You could become the president of the United States, but it starts with education and it starts with learning and in this world you've got to know how to use a computer. You've got to know how to understand the internet."
Paul admitted he loves giving back to the community, but was quick to defer any praise toward his mother, who keyed the renovation. He will return to his day job next week when the Clippers begin training camp on September 30.
"Coming here the first time, I'll never forget it because it was really my first opportunity to sort of have some type of impact on L.A.," Paul said. "I'm happy to be home for a little while and get some sense of normalcy and get back on the court. This was the perfect way to end the summer."
[gss ids="9085,9090,9089,9088,9082,9087″]