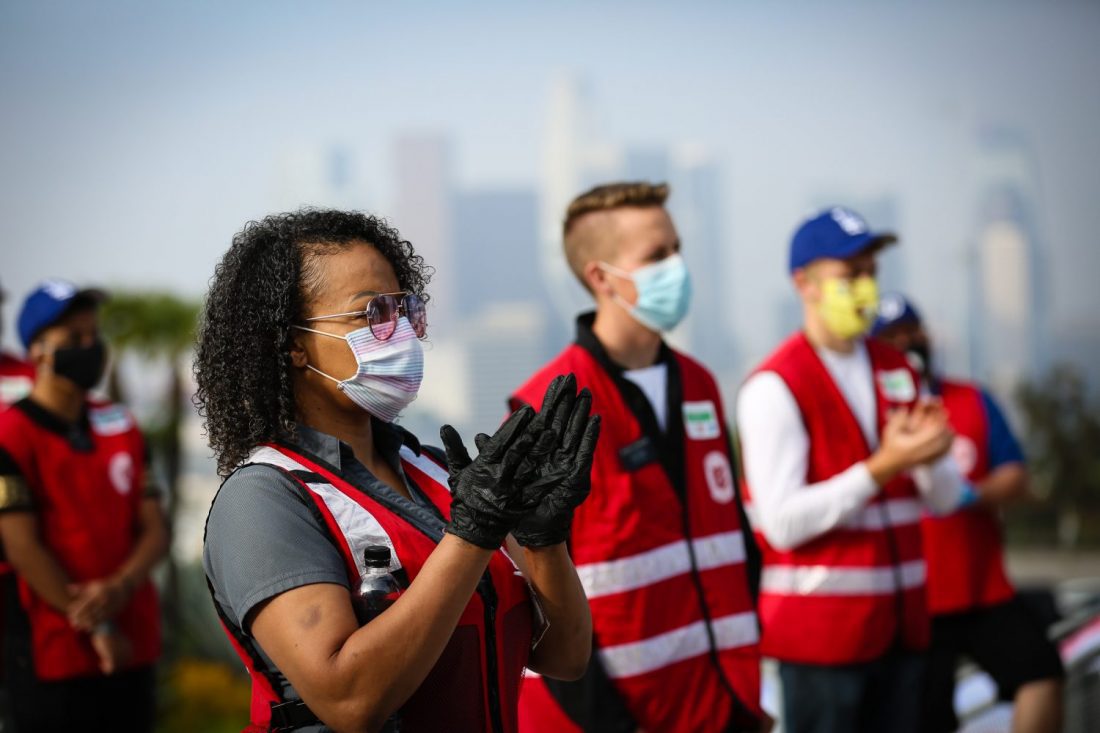 COVID-19 Salvation Army command updates: May 29
Western Territorial Commander Commissioner Kenneth G. Hodder held the 29th—and final—teleconference meeting regarding The Salvation Army's response to COVID-19 May 29 with members of the Territorial Executive Council (TEC), divisional leaders and key staff, who joined in via Zoom from throughout the West. Hodder acknowledged the command heads for their hard work over the last 12 weeks.
Today's meeting consisted of updates from Intermountain, Northwest, Southwest, the Adult Rehabilitation Centers (ARC) Command, the College for Officer Training (CFOT) at Crestmont and Silvercrest.
After a roll call of command heads, Hodder shared one announcement: an online territorial prayer meeting to take place at 11 a.m. today, March 29. During the 20-minute interactive meeting, prayers for peace will address the violent demonstrations taking place around the country following what happened in Minneapolis. George Floyd was a security guard for The Salvation Army Center of Hope facility in Minneapolis.. The meeting is available to view on the New Frontier Chronicle Facebook page and on YouTube at TSA West Video. "The whole world is invited," Hodder said.
Reporting from the Intermountain Division, Divisional Commander Major Mike Dickinson said significant protests occurred yesterday in Denver; another will take place today at noon. Yesterday's protests began peacefully but turned violent, with gunshots fired into the crowd. The protests started four blocks from Divisional Headquarters and ended about one block away. The State Capitol is closed for the day.
Dickinson said the division is looking ahead to how it will adjust services for the long haul. He mentioned Salt Lake City, where The Salvation Army is providing extra support to Magna, Utah, which was the epicenter of the area's March 18 earthquake.
He said the Army is looking to continue its partnership with Spark the Change and with Americare. 
Of the four Family Stores that recently reopened, two have sales surpassing last year's at this time: Casper, Wyoming, at 32% higher and Sheridan, Wyoming, at 75% higher. Sales were flat at the other two stores.
Finally, the Army is working with its media partners on a fourth phone bank telethon scheduled for June 17, in conjunction with the station's Founder's Day.
In the Northwest Division, Divisional Commander Lt. Colonel Bill Dickinson said protests will take place May 30 in Seattle. 
Last week, the division distributed 4,700 food boxes in eight locations—some large and some small. He said they observed the greatest impact in the smaller communities. He noted that the media attention the Army has been receiving during the COVID-19 crisis far exceeds coverage at Christmas. He acknowledged the great partnerships the Army has developed. Four drive-through food distributions are planned for mid to late June. 
In Washington, 26 of 32 counties have been approved for phase two of reopening. 
The Southwest Division has experienced excessive heat for most of the week; today the temperature may reach 112 degrees. They've discovered that excessive heat and face masks are not compatible and are trying to figure out what masks will be best during the extreme heat.
The LDS Charities contacted The Salvation Army to partner on providing assistance to Southern Arizona. The LDS is sending 24.5 pallets of shelf-stable food items to Tucson as part of the ongoing food box program.
Divisional Commander Lt. Colonel Kelly Pontsler said the Army is continuing to determine how to best serve the Navajo Nation. The division's EDS director has been in contact with Territorial EDS Director John Berglund about putting together a large-scale project.
She also noted the division is continuing to allocate COVID-19 relief money for rent and utilities; such assistance is becoming more and more critical.
The Kroc Center will open for some fitness and swimming activities on June 15. Each week throughout the summer, the center will add another component to the activities offered. New Mexico corps opened in-person services last week, except for Farmington, which is still a COVID-19 hot spot. Elder corps members continue to stay home. Arizona can now open chapels with some limitations. Yuma will remain closed (but offer online worship) as it is still a hot spot. Most corps will continue to offer online worship after they reopen. Nevada corps will reopen as of June 4. 
The Southwest officers are happy to be able to request furlough time. For those who want to get out of the heat but have nowhere to go, the division has arranged for them to spend some time at the Army's High Peak Camp in Estes Park, Colorado.
"[I'm] thrilled to hear about the LDS expansion in Tucson; that's a tremendous step forward," Hodder said.
ARC Commander Major Henry Graciani said the territory's ARC administrators have noted the camaraderie that has developed between beneficiaries, staff and officers during this time of closed campuses. Beneficiaries seem to be more appreciative of the spiritual component of the program. In addition, they have expressed gratitude that the centers are safe.
The Torrance, California, Family Store opens today along with 12 other stores. Graciani said he is cautiously optimistic that all but three stores will be open by the end of June.
"To hear the continuing stories of transformation throughout this whole thing…God continues to work in the lives of men and women through the ARC," Hodder said. "And they have been kept safe to this date and they have been kept sensitive to the leading of the Holy Spirit—a lot has been accomplished in the ARCs over the last two and a half months."
CFOT Principal Major Nigel Cross said the countdown is on—16 days to Commissioning—and the excitement is growing. The Messengers of the Kingdom are completing their last week of classes and their final papers. The mantle service is this Sunday, at the flagpole to start; next Sunday is Spiritual Sunday. The Family Care Center will hold a drive-through graduation. The Farewell Banquet will be a picnic with appropriate social distancing.
CFOT is looking forward to this Sunday, when they will be back together in the chapel for worship, with appropriate social distancing measures in place. This will be the first time they've come together as a family since the COVID-19 crisis began.
"We're all looking forward to the online Commissioning day," Hodder said. "That's going to be quite an experience for The Salvation Army; it will be historic."
Silvercrest Executive Director Susan Lawrence reported that the people who tested positive for COVID-19 are all doing well. The residences are still receiving food boxes, which are greatly appreciated. Silvercrest staff are trying to keep residents engaged and inspired. In Broomfield, Colorado, a small group met outside for art classes; their artwork is now on display in the lobby. In Hollywood, the residents—who are mostly Russian speaking—were asked to write poems. About 10 people responded. Staff is working on having the poems translated into English.
Silvercrest staff are looking forward to the next phase and planning for it. They are thinking of starting by letting two people into the community room at the same time.
"Your staff and your team is to be commended for what you've been able to do," Hodder said, noting the problems other care facilities have had with COVID-19. "And one of things that I hope more than any other will last beyond this point will be the relationships that have been created between the corps and the Silvercrests."
Cascade Divisional Commander Major Nancy Dihle asked Lawrence how long the phone encouragement program will continue. Lawrence said that has not yet been determined, but she hopes it will continue for a while. Hodder asked Lawrence to check on that and to let everyone know. He called it "a marvelous tool."
Hodder then shared from 1 Thessalonians 5: Encourage one another and build each other up, just as in fact you are doing.  Now we ask you, brothers and sisters, to acknowledge those who work hard among you, who care for you in the Lord and who admonish you. Hold them in the highest regard in love because of their work. Live in peace with each other. And we urge you, brothers and sisters, warn those who are idle and disruptive, encourage the disheartened, help the weak, be patient with everyone. Make sure that nobody pays back wrong for wrong, but always strive to do what is good for each other and for everyone else. Rejoice always, pray continually, give thanks in all circumstances; for this is God's will for you in Christ Jesus. Do not quench the Spirit. Do not treat prophecies with contempt but test them all; hold on to what is good, reject every kind of evil. May God himself, the God of peace, sanctify you through and through. May your whole spirit, soul and body be kept blameless at the coming of our Lord Jesus Christ. The one who calls you is faithful, and he will do it.
Hodder closed the meeting in prayer.
HOW TO HELP:
If you'd like to make a monetary donation, please click here to make a gift.
Text 'GIVE' to 52000 to make a $10 donation to The Salvation Army. This will automatically add a one-time donation to your next mobile phone bill.
For information about volunteering, please visit volunteer.usawest.org.
To learn more about how to support The Salvation Army's relief efforts, please click here.